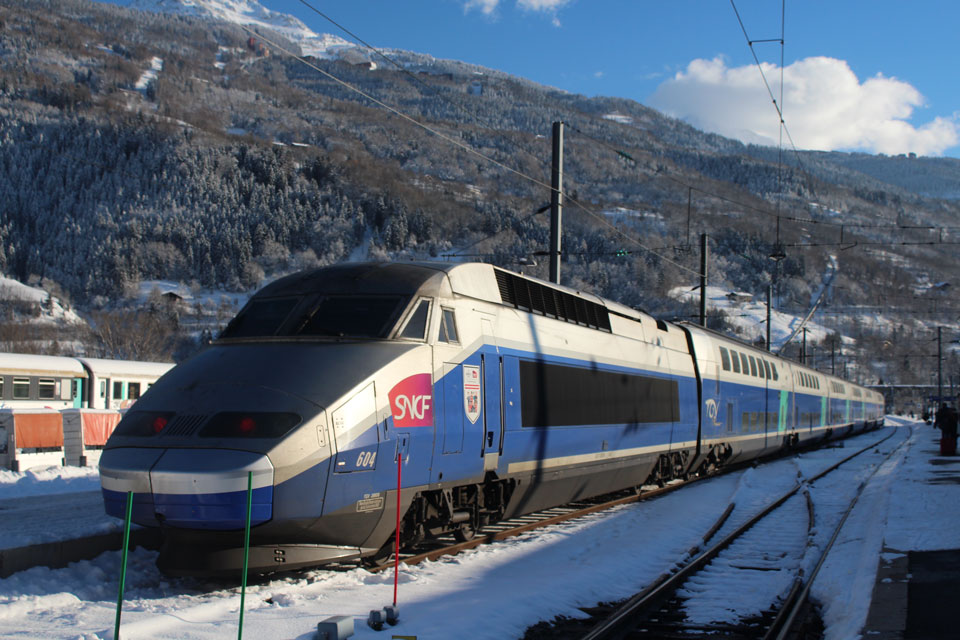 Daniel Elkan
Introduction
The TGV (short for "Train de Grand Vitesse") is so named because it travels at high speeds of up to 320km per hour. Even at these high speeds it's quiet, smooth and a very comfortable way to travel to the Alps.
We've used the TGV to get to ski resorts many, many times – and like the journeys a lot. It's a lot of fun for groups of friend and for families. Even in standard class the seats are spacious and there are lots of table seats - a different world from many of the trains in the UK - so it is easy to make good use of the space. The carriages are a mobile-free zone, so you won't get anyone shouting "Oui! Je suis dans la train!" or annoying you by constant nattering from the seat behind. Instead, people go to the corridor to use their phones.
There's also a café-bar, and you can bring your own food, drink and alcohol on board. The TGV is excellent for getting to resorts all over the Alps, and also provides extra capacity as an alternative to the Eurostar Ski Train.
---
Eurostar + TGV vs flying to the Alps
To see what it's like travelling on the TGV, you might enjoy this Top Gear style plane vs train race where Snowcarbon co-founder Daniel Elkan races experienced ski writer Neil English to the Three Valleys.
Daniel travelled in Standard Class when making of this film, while Neil flew EasyJet. You might be surprised by the result - there certainly wasn't much in it...
We won't tell you who won the race (you'll have to watch the film), but Daniel certainly had a more comfortable journey - as you will see!
---
Seating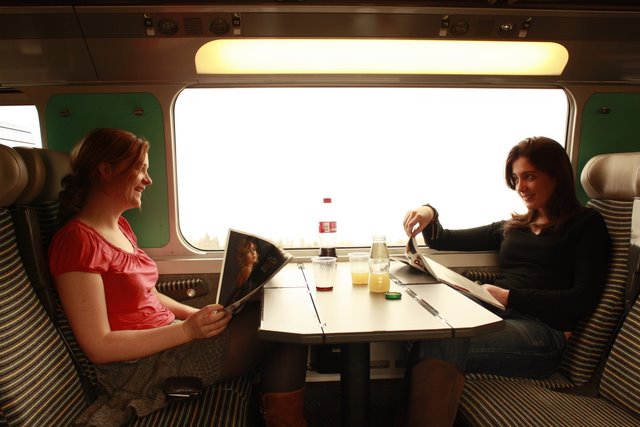 The seats on the TGV are comfortable, whether you're in standard or first class. People often ask whether it is worth upgrading to First Class and we'd say no, because the seating is remarkably similar between the two classes. In both Standard and First Class there are are plenty of table seats, and those without have a pulldown table where you can rest a book or laptop.
However, First Class carriages have plug sockets for charging phones and laptops (or perhaps plugging in an iron if you are so disposed), while Standard Class carriages don't. When booking, you'll sometimes find that the price of a First Class seat is little more than a Standard Class one, and in that case worth the extra pounds.
There is space to store skis and luggage in the overhead racks and space for larger cases at the ends of carriages. As mentioned, every carriage is a "quiet carriage" and people generally only talk into their mobile phones in the corridor space instead.
There is no check-in time for this train, but if you turn up a few minutes early you'll be able to store your luggage most easily and settle in to a relaxing, fun journey to the Alps.
---
Cafe bar and food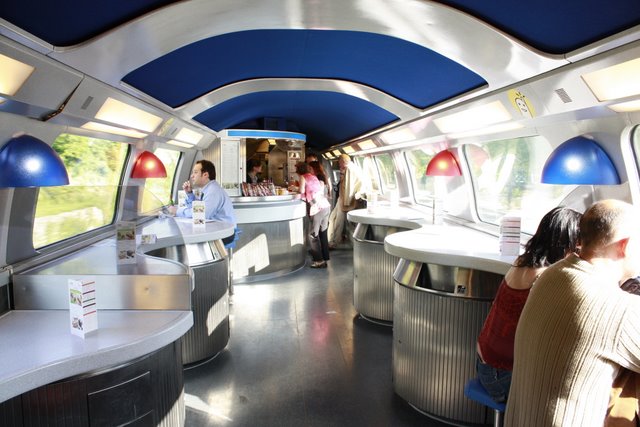 TGVs have cafe-bars that sell hot and cold drinks, alcohold, hot snacks and sandwiches. The prices are not exhorbitant, but it is worth thinking about stocking up at a Paris station first where you'll have more choice - and the wine will be cheaper! Or bringing some provisions from home.
You can eat at one of the counters in the cafe-bar (some have stools) and enjoy the views from there, or take items back to your seat. The atmosphere in the cafe bars is very pleasant - we've got chatting to lots of other people enjoying their journeys too.
At the cafe bar you can also buy tickets for the Paris Metro - although you can also change in Paris easily with a taxi, which makes things easier if you have quite a bit of luggage or children in tow.
---
Group and family facilities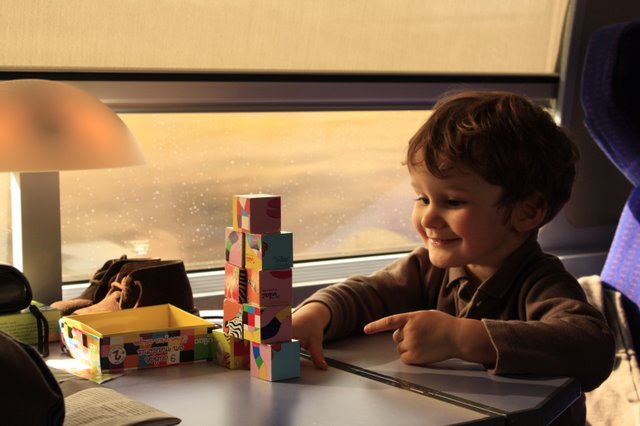 The TGV is particularly good for groups or families, especially if you book table seats, or find them when you turn up. When you walk through the TGV its great to see that children are enjoying the journeys by train - busy scribbling, drawing, playing game - we've seen happily familes on the train plenty of times and never seen an unhappy one. Quite different from the airport experience.
Table seats are great places for a group of friends or family to get a game of cards out, scrabble, Connect Four, whatever. It's easy to get up and walk to the cafe bar, to give children a chance to stretch their legs too.
---
Ski holidays by train — Ask Snowcarbon
At Snowcarbon we are always happy to help you with suggestions for great resorts, fantastic accommodation and how to get there.
Looking forward to helping you.
---