Introduction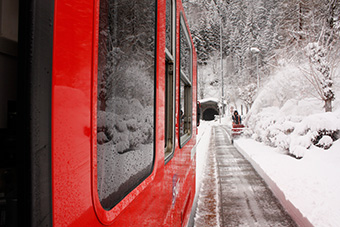 For some journeys to ski resorts, you'll take a local train for the last leg of the journey to your resort. This is often the case for journeys in Switzerland, where many resort have a train station in the heart of the village - served by a local train rather than a TGV.
But it's also the case in France for connections via Lyon, where a local TER train will transport you from Lyon Part Dieu station to the closest station you your resort.
---
On board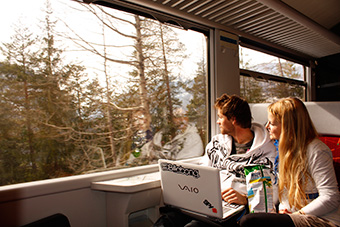 As you can imagine, the scenery from local trains in the Alps can be absolutely magificent - especially after a recent snowfall.
On board, seats aren't reserved but there is normally plenty of room, including storage space for luggage and skies.
Many local trains that serve the Alps have table seats too - but not all do.
You won't find cafe-bars or restaurants on these trains, so if you want to eat or drink for this leg of the joureny, bring provisions on board and then enjoy a picnic meal with all the great scenery that is provided as you head to, or from, your resort.
---