On-board restaurant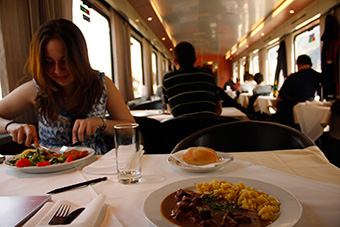 photo:Daniel Elkan
EuroCity trains have memorable restaurant carriages, with freshly prepared hot meals and salads. Orders are taken at your table, so you just watch the scenery slip by. There are some good wines and draft beers.
You don't have to reserve, just walk through to the restaurant carriage. Or, board the train at the restaurant and make it your starting point. Then, when you finish your meal, you can move to seating in an adjacent non-restaurant carriage.
If you want to reserve restaurant seats in advance, call 0043 664 96 77 416, email reservierung@e-express.at or use the online form (it's in German, but google will translate it).
---
Scenery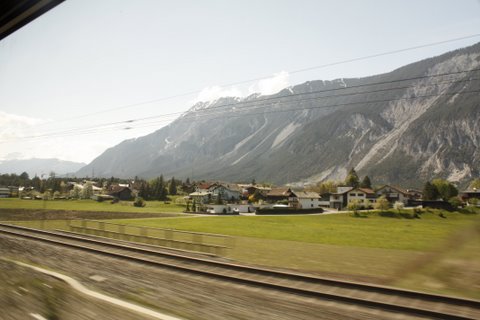 photo:Daniel Elkan
There are some great views as these trains head into the Tirol from the north, or runs along the Arlberg Valley and west towards Zell am See

This shot was taken in May, so the snow was only up in the mountains but in winter it's absolutely magnificent when snow covers the ground.
Eurocity trains are certainly a comfortable option for connecting to resorts in Austria.