Introduction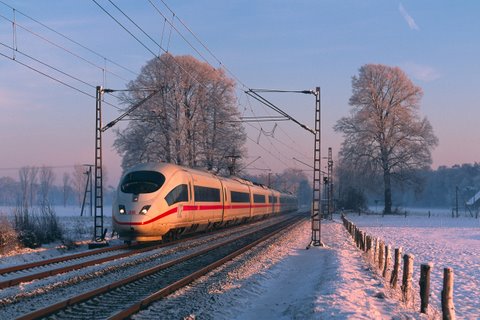 If you haven't travelled on an ICE train before, you will probably be very pleasantly surprised. Step on board and you wonder why more high-speed trains aren't built this way.
Now you are speeding through the countryside between Brussels and Cologne. Despite their speed, these trains are beautifully quiet inside. A temple of train travel.
They are also very spacious. There are loads of tables, big glass windows, just loads of space. So you think: 'Well, First Class is very nice, but what about 'Standard Class?'
And then you realise that you are in Standard Class. That's how good these trains are.
---
On-board dining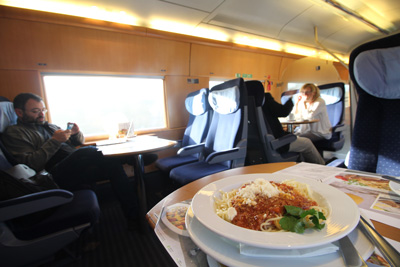 The on-board restaurants on ICE trains are great, with freshly prepared hot and cold food and drinks, including wine and beers.
In the photo is a spagetti bolognaise, which was excellent. Served, as you can see, on real plates with steel cutlerly.
The prices are reasonable, comfortable seating, unhurried atmosphere and the views out the window as as you eat this a real pleasure.
The excellent Seat61 website has a photo of the ICE Bistro menu.
---
Seating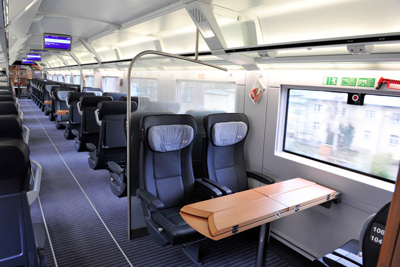 This is one of the carriages in an ICE train.
A high proportion of the seats have table seats, which means that you can play cards, games, have a picnic at the table, etc.
There's plenty of legroom - and of course you can stretch your legs with a walk down to the restaurant-cafe.
The large windows give you a good view of the passing scenery. Even the toilets are very spacious.
Perhaps one day British trains will be built like this too...
---