Introduction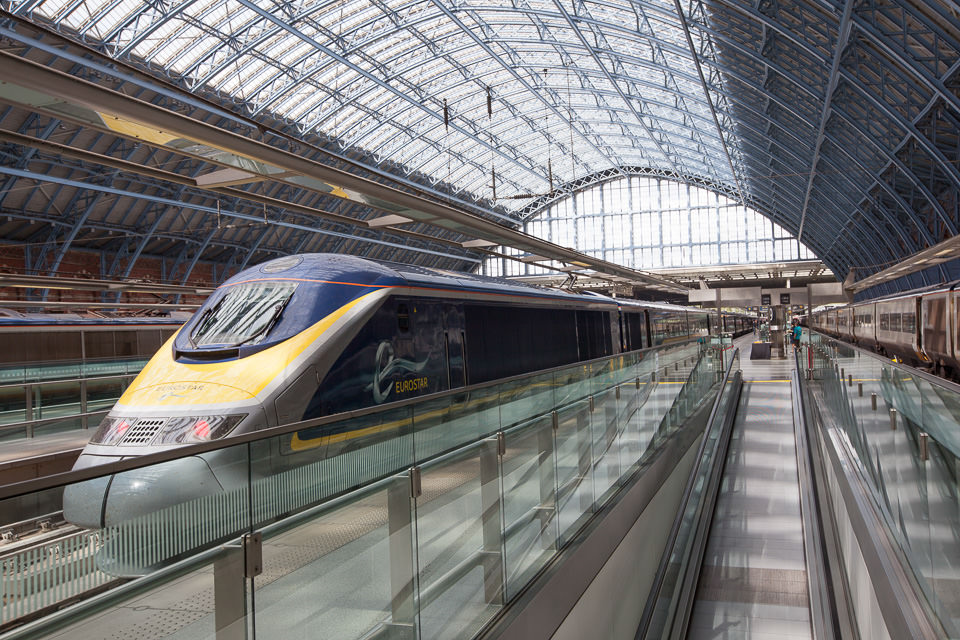 The Eurostar is a quick and comfortable way to reach Paris or Lille, from where you can catch onward daytime or overnight trains to the ski slopes.
Check in is really easy, and only takes about ten minutes, which makes a pleasant change from airports.
You can take:
a) two suitcases on Eurostar (max length 85cm) plus hand luggage
OR
b) one suitcase + a pair of skis or snowbaord (e.g. in a ski or snowboard bag). The 85cm limit does not apply to the skis or snowboard - don't worry!
All these are carried free of charge.
---
Seating on Eurostar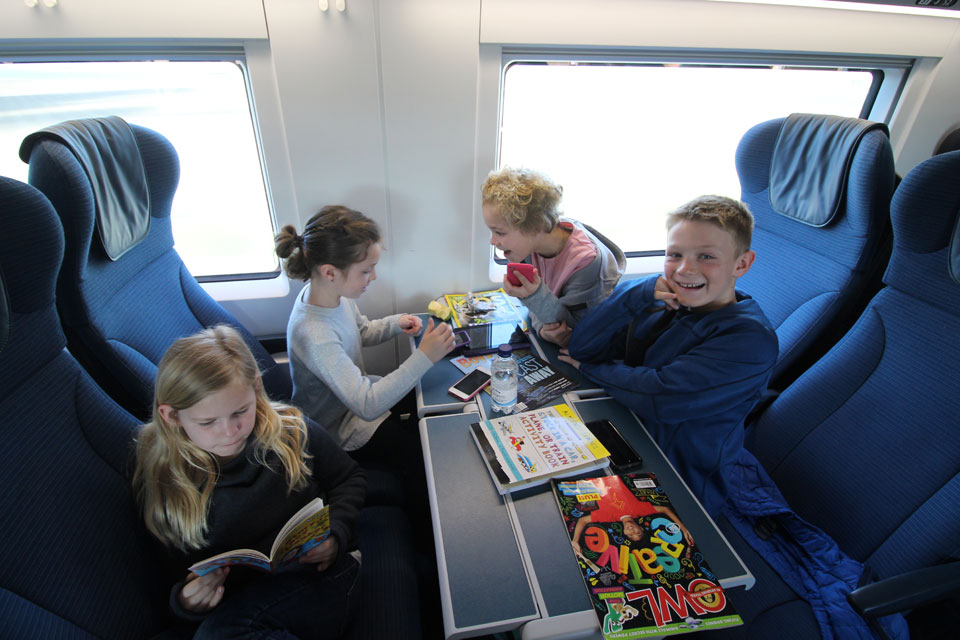 Daniel Elkan
The seats on the Eurostar are comfortable in Standard Class (see photo above) but much more roomy in Standard Premier (Eurostar's equivalent of First Class), where every seat is a table seat and you get a meal served too.
If you are booking Standard Class and you'd prefer a table seat, request one if you can.
There are power sockets in all carriages (I think).
Here are the seating plans for Eurostar:
Eurostar E320 seating plan (PDF)
Eurostar E300 seating plan (PDF)
There is space to store skis and luggage in the overhead rack and space for larger cases at the ends of carriages.
---
Luggage and skis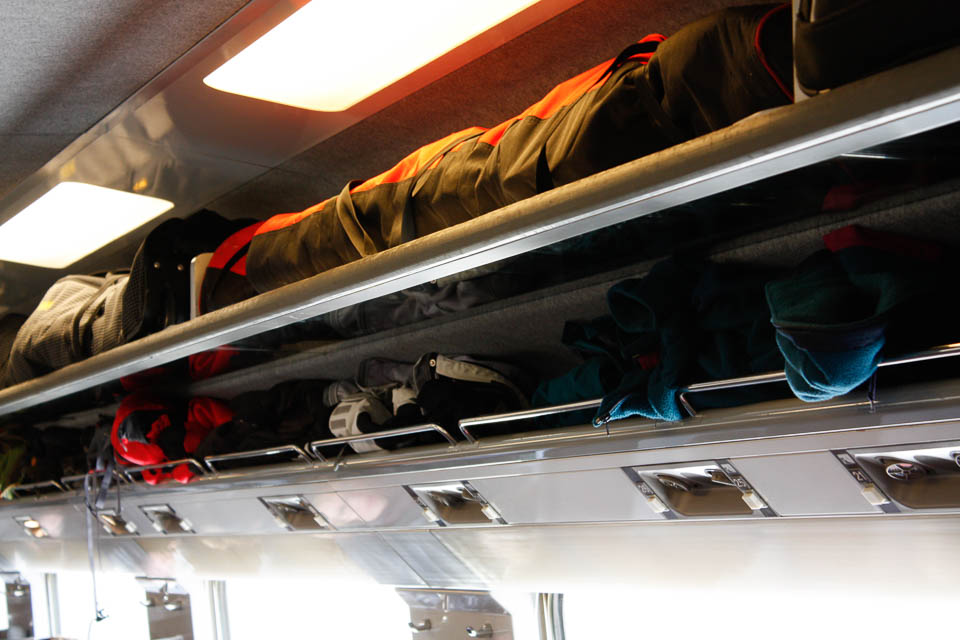 Daniel Elkan
There has been some confusion as to whether skis can be taken on ordinary Eurostars. They can.
You can take two suitcases on an ordinary Eurostar (max length 85cm) and hand luggage, all free of charge. Or one suitcase and one pair of skis or snowboard - no max length. Plus hand luggage, also all free of charge..
There is space to store skis and luggage in the overhead rack (see pic above, of Snowcarbon's founder Daniel's snowboard bag) and space for larger cases at the ends of carriages.
You can see this confirmed on Eurostar's travel planning page on sports equipment. The Eurostar page says:
'On our direct trains to Bourg-St-Maurice we allocate extra space on board so you can take one pair of skis or one snowboard on board with you in addition to your standard adult luggage allowance. For safety reasons, skis and snowboards have to be kept in a protective case that covers the whole item.
On all other trains, they're included as one of your two pieces of luggage.'
We have checked this with Eurostar many times and taken skis and snowboards onto Eurostar over 50 times.
---
Eurostar cafe bar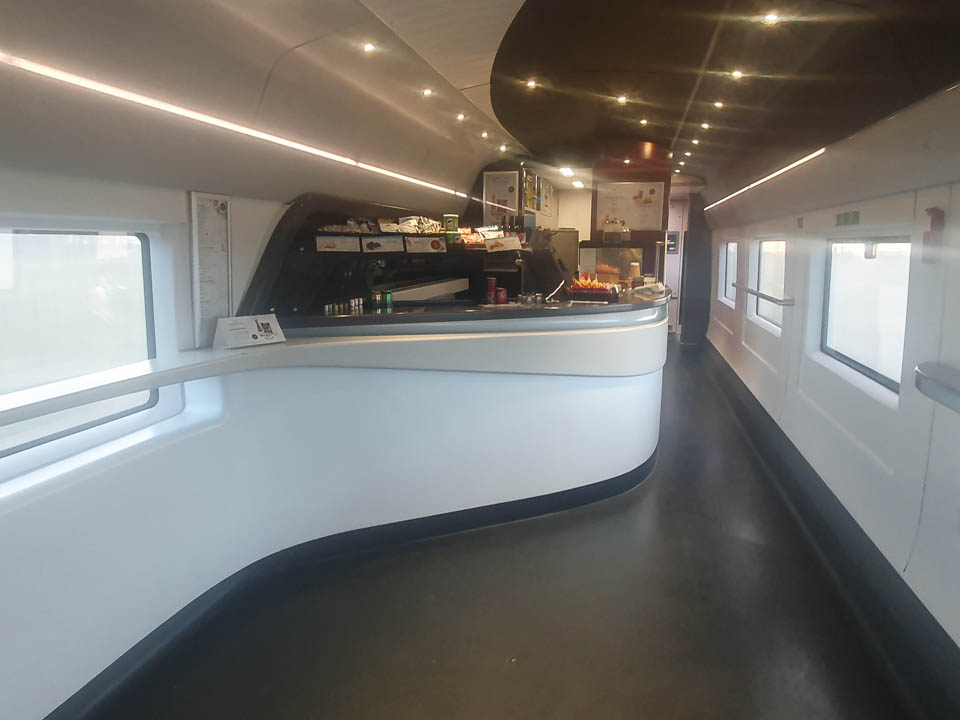 Daniel Elkan
Eurostar trains have cafe-bars serving hot and cold drinks and snacks.
On the old Eurostar trains, the Eurostar cafe bar used to be a really great place to hang out. It was large and had little round tables in the middle. Perfect for chinwags and banter with friends over coffee, bubbles or a snack. You had a real sense the the holiday had begun.
Then Eurostar introduced it's new trains. On these new trains, each cafe bar was split into two separate cafe bars. Out with the tables. Out with an space where you could rest your drink and gather with friends.
What they've essentially become is a queue with a view. What a shame.
Perhaps Eurostar asked it's management consulting team how to maximise revenue, and were told that if people spent less long in the cafe bar, revenue would be increase After all, fast-food chain restaurants with bright lighting and plastic seats work like this.
So these days, the Eurostar cafe bar is poorly attended and a rubbish experience compared to what it used to be. Instead, look forward to cafe bars and restaurants on board trains in Europe. They are much better!
It is well worth noting that you can take food onto Eurostar. St Pancras station has loads of cafes and shops, including a Marks & Spencer, where you can fill up on food for the way.