Eurostar + NightJet to Austria
This sleeper-train service to Austria means that you can travel overnight to Austrian Tirol, and get two extra days on the slopes
Introduction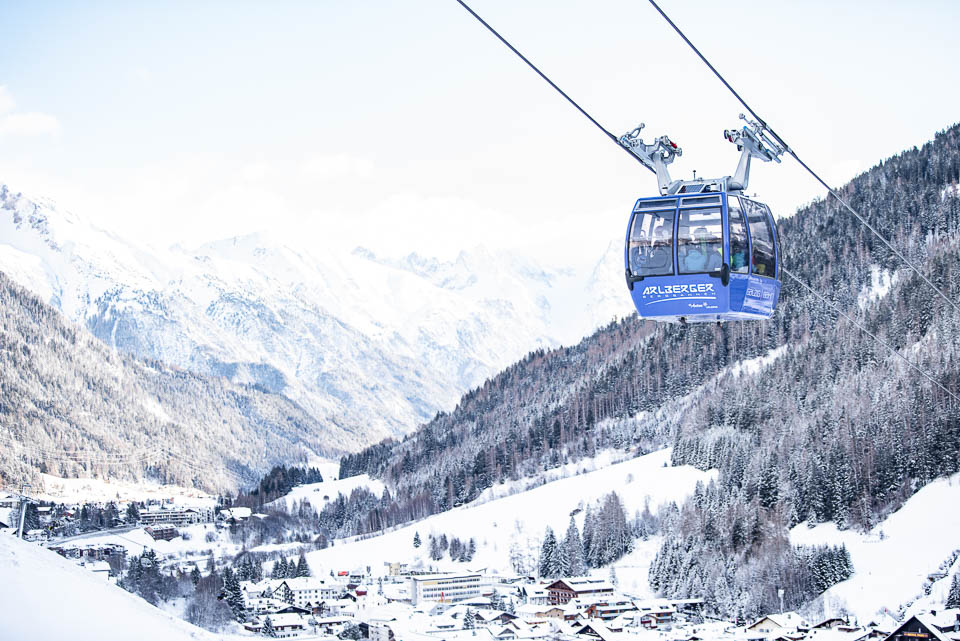 Overnight rail travel has always been an attractive prospect for skiers, making the journey part of the holiday and adding two extra days on the slopes. The good news is that this is now possible from the UK to Austrian ski resorts, travelling with a combination of Eurostar, Thalys or ICE, and NightJet sleeper train, arriving in Austria only minutes from the villages and slopes of many fantastic ski resorts. The journey involves:
1. Eurostar from London to Brussels
2. ICE or Thalys from Brussels to Cologne
3. NightJet sleeper train from Cologne to the Austrian Tirol
And then ski, ski, ski...!
---
Eurostar + NightJet journey schedules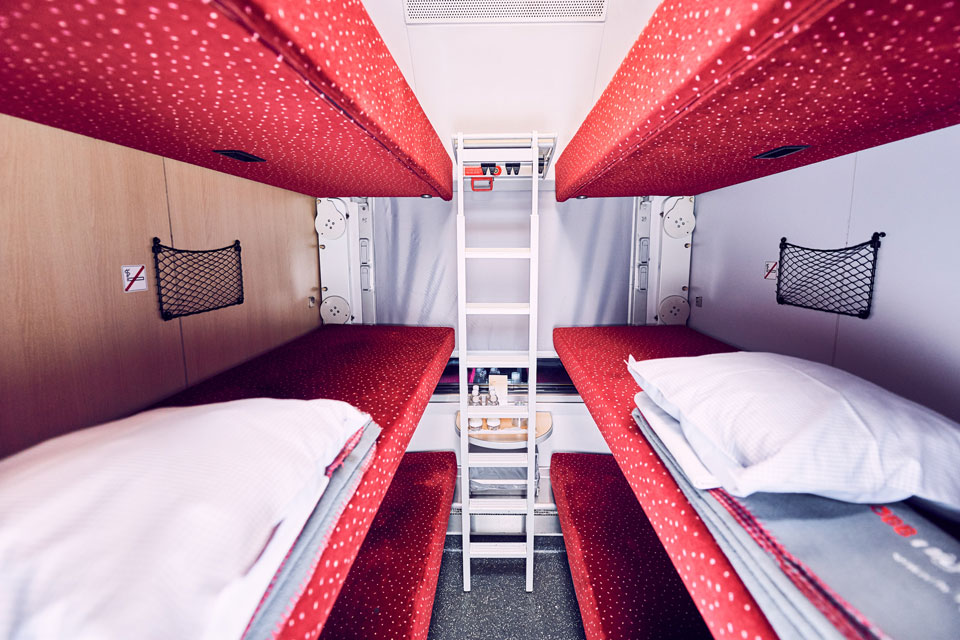 ÖBB_Marek-Knopp
The train journey from London to the Austrian Tirol involved three enjoyable legs: Eurostar to Brussels, ICE or Thalys from Brussels to Cologne and then NightJet sleeper train to Tirol. It's not the quickest journey option, nor the most direct, and we wouldn't suggest that if it's your first time going skiing by train you do this first; but if you love train travel to the Alps then it will be great - and you could try it one way or both ways.
Outbound journey - London to Austria (runs everyday)
Depart
13:04 or 15:04
London St Pancras
Eurostar
Arrive
16:08 or 18:05
Bruxelles-Midi
Depart
18:34
Bruxelles-Midi
ICE
Arrive
20:15
Cologne
Depart
22:17
Cologne
NightJet
Arrive
08:28
Kufstein
Arrive
08:39
Wörgl
Arrive
08:55
Jenbach
Arrive
09:14
Innsbruck


Onward through Austria
If your resort is further along the Austrian valley, you can connect with an onward train from Wörgl. This is the timetable:



Onward from Wörgl (runs everyday)
Depart
08:59
Wörgl
local train
Arrive
09:20
Kirchberg in Tirol
Arrive
09:29
Kitzbühel
Arrive
09:37
St. Johann in Tirol
Arrive
10:05
Saalfelden
Arrive
10:14
Zell am See

Back from Austria
You can return along the Austrian valley to connect with the NightJet from Wörgl. This is the timetable:

Back to Wörgl (runs everyday)
Depart
18:46
Zell am See
local train
Depart
18:56
Saalfelden
Depart
19:29
St. Johann in Tirol
Depart
19:36
Kitzbühel
Depart
19:44
Kirchberg in Tirol
Arrive
20:19
Wörgl

Return journey - Austria to London (runs everyday)
Depart
20:44
Innsbruck
NightJet
Depart
21:06
Jenbach
Depart
21:23
Wörgl
Depart
21:35
Kufstein
Arrive
06:58
Cologne
Depart
07:42 or 08:43
Cologne
ICE
Arrive
09:35 or 10:35
Bruxelles-Midi
Depart
12:56
Bruxelles-Midi
Eurostar
Arrive
14:00
London St Pancras

---

Step 1: Take a Eurostar to Brussels

You get on the Eurostar, sit down, have a chat with your friends, go to the cafe bar, read a book, look at the scenery gliding by, share a joke with a fellow passenger.

There are lots of great ways to use the time and then before you know it your Eurostar is arriving in Brussels-Midi.

You may also want to see our guide to what the Eurostar is like.

---

Step 2: Take an ICE or Thalys to Cologne

When your Eurostar arrives at Brussels-midi, you need only change platform to catch an onward Thalys or ICE train, headed to Cologne.

If you have time between trains, Brussels stations has plenty of cafe and snack bars where you enjoy a meal or buy food to take on the next stage of the journey.

ICE train are incredibly spacious and comfortable - with huge windows to view the scenery. The way that they are designed is fantastic - a model for other train operators to follow.

There are plenty of table seats and there is a cafe-bistro which serves hot meals (with china crockery and steel cutlery) for reasonable prices, as well as draft beer, tea, coffee and other beverages.

---

Step 3: Take the NightJet from Cologne to Austria

The NightJet is a sleeper train that runs from Cologne, in Germany to stations in the Austrian Tirol, home to plenty of fantastic ski resorts.

It has couchettes with flat beds, so you can lie flat and enjoy a good night's sleep on you way to the slopes.

You can choose from sleeping in a 2-berth, four-berth or six-berth couchette compartment, and these can be shared or booked off as private.

Although there isn't a cafe bar, the NightJet staff will offer a wake up call accompanied by a breakfast brought to your couchette (breakfast is included in the price of your ticket). You can also order hot and cold drinks and snacks at any time.

The excellent Seat61 website has a very informative guide to NightJet trains which you might find useful, too

---

Step 4: Transfer to your resort

Once the NightJet sleeper train arrives in the Tirol, you are only minutes from you hotel, chalet or apartment.

Some Austrian stations, such as Kitzbuehel, have train stations located right in the heart of the village.

Others are just a short bus or taxi ride away - between 10 and 30 minutes.

It's a good idea pre-book a taxi transfer, although at most train stations you can find a taxi driver on the spot too. Pre-booked transfers are generally cheaper, and you then have the driver waiting for you when you arrive.

You can pre-book taxi transfers with Four Seasons Travel, who are recommended as a taxi company by Tirol Tourism.

---

Transfers by taxi to Tirolean resorts

Transfer durations and prices (one way, per taxi - up to 8 people per taxi)
Station
Ski resort
Transfer time
Guide price
Kufstein
Söll (Skiwelt)
30 minutes
56€
Kufstein
Scheffau (Skiwelt)
30 minutes
56€
Kufstein
Ellmau (Skiwelt)
35 minutes
56€
Kufstein
Going (Skiwelt)
35 minutes
56€
Wörgl
Hopfgarten (Skiwelt)
20 minutes
56€
Wörgl
Westendorf (Skiwelt)
25 minutes
56€
Wörgl
Brixen i. Thale (Skiwelt)
28 minutes
56€
Wörgl
Kitzbühel
38 minutes
68€
Wörgl
Kirchberg
32 minutes
62€
Wörgl
St Johann in Tirol
20 minutes
60€
Wörgl
Niederau/Wildschönau (Ski Juwel)
15 minutes
56€
Wörgl
Oberau/Wildschönau (Ski Juwel)
20 minutes
56€
Wörgl
Auffach/Wildschönau (Ski Juwel)
25 minutes
56€
Jenbach
Alpbach (Ski Juwel)
22 minutes
45€
Jenbach
Reith im Alpbachtal (Ski Juwel)
16 minutes
45€
Jenbach
Mayrhofen/Zillertal
40 minutes
43€
Jenbach
Hochzillertal/Fügen/Hochfügen
40 minutes
43€
Hochzillertal/Fügenberg
23 minutes
43€
Jenbach
Zillertal Arena/Zell/Zellberg
30 minutes
43€
Jenbach
Zillertal Arena/Gerlos/Gerlosberg
50 minutes
53€
Jenbach
Tux/Hintertux/Zillertal
55 minutes
53€
Jenbach
Pertisau/Achensee
25 minutes
53€
Jenbach
Maurach/Achensee
12 minutes
43€
Innsbruck
Innsbruck (Olympia Ski World Innsbruck)
station in resort
Innsbruck
Kühtai (Olympia Ski World Innsbruck)
50 minutes
70€
Innsbruck
Igls (Olympia Ski World Innsbruck)
15 minutes
66€
Innsbruck
Axams (Olympia Ski World Innsbruck)
20 minutes
66€
Innsbruck
Mutters (Olympia Ski World Innsbruck)
15 minutes
66€
Innsbruck
Neustift/Stubai
31 minutes
66€
Innsbruck
Fulpmes/Stubai
25 minutes
66€
Innsbruck
Obergurgl/Hochgurgl
100 min
185€
Innsbruck
Ischgl
85 minutes
185€
Innsbruck
Ehrwald/Tiroler Zugspitzarena
90 minutes
185€
Innsbruck
Lermoos/Tiroler Zugspitzarena
90 minutes
185€
Innsbruck
Berwang/Tiroler Zugspitzarena
105 minutes
185€
Innsbruck
Seefeld
20 minutes
70€
Innsbruck
St Anton
75 minutes
185€

You can pre-book taxi transfers with Four Seasons Travel, who are recommended as a taxi company by Tirol Tourism.

---

How to book Eurostar + NightJet journeys

Prices
Rail travel from the UK to the Austrian Tirol, with a standard-class seat on Eurostar and a place in a six-berth couchette on the NightJet, start at £215 return per adult. However, prices always depend on availability, and at peak dates will likely be higher. Depending on ages, children get about 30% off the adult fare.

The Travel Bureau
Helping people book rail travel since 1984, The Travel Bureau has an expert, knowledgeable team who can book journeys for you and can help with any journey.
The Travel Bureau charges a fee of £10 per traveller (sometimes less for larger groups).
Phone: (+44) 01902 326 662 (10:00 – 16:00 Monday – Friday)
Website: https://rail-travel.co.uk/
Email: rail@thetravelbureau.co.uk

Trainseurope
Helping people book rail travel since 1986, Trainseurope has an expert, knowledgeable team who can book journeys for you.
Can help with any journey.
Trainseurope charges a fee of £10 per traveller.
Phone: (+44) 01354 660222 (09:00 – 17:00 Monday – Friday; 09:00 – 15:00 Saturday)
Website: www.trainseurope.co.uk
Email: info@trainseurope.co.uk

Ffestiniog Travel
Ffestiniog Travel is an excellent, specialist rail-booking travel agency and can book the entire journey for you and make sure you get the lowest fares, offers and upgrades. There is a booking fee for all ticketing arrangements made – this is minimal and charged as a percentage of the total booking cost, ranging from a few points up to a maximum charge of £30.
Phone: 01766 772 030
website: www.ffestiniogtravel.com
email: info@ffestiniogtravel.co.uk;

Eurostar website and NightJet websites
You can book the journey as two separate sections online currently (although we'd recommend booking it as one journey, via an agency above). If you do want to book it online yourself, here are the two websites:
London to Brussels by Eurostar, book on at www.eurostar.com
Brussels to Austria with ICE and NightJet, book at www.nightjet.com

The excellent website Seat61 has a guide about travelling from London to Austria by NightJet - check it out.

---

Ski resorts by train in the Austrian Tirol

The Tirol region in Austria, has plenty of resorts that are accessible by NightJet sleeper train. That gives you a lot to choose from, and if you'd like help choosing you are welcome to contact Snowcarbon founder Daniel - who can make recommendations and make sure you find something suitable. Just send Daniel an email and he'll be back in touch.

In the section below, we highlight some of the best Tirolean resorts by train - each with a resort guide and an example journey.

---

SkiWelt Wilder Kaiser Brixental

Resort summary
The SkiWelt is a collection of six linked resorts offering 279km of interconnected pistes with an abundance of blue and red runs over undulating pastureland. The prices here – for everything from food and drink to accommodation - are extremely reasonable.
The villages are all contrastingly different from each other. Söll is the party resort and the one that's best-known internationally. It also has a wide range of accommodation to choose from, including seven four-star hotels.

Ellmau is a pleasant family resort with hotels, shops and bars lining its busy high street. Brixen im Thale is one of the oldest villages in Tirol, with the centrepiece a large pastel pink Baroque church. Hopfgarten has been a busy market town for some 650 years and is the economic centre of the Brixen Valley.

The quieter accommodation bases are traditional Scheffau and little Going - the latter famous for the fabulous Stanglwirt Hotel, which has its own troupe of Lipizzaner dancing horses.

The skiing in the area covers three mountains that are well connected and are accessed by a state-of-the-art gondola from Ellmau or by quad-chair from Going. Two gondolas access the slopes from Scheffau and a gondola goes up to the ski area from Brixen im Thale.

From Hopfgarten the two-stage Salvebahn gondola takes you up to the top of Hohe Salve, the highest point of the skiing and home to some of the area's most challenging runs.

Söll's skiing starts a kilometre from the village centre, where a gondola also brings you up to Hohe Salve. Ellmau is located between Going and Scheffau. The other linked resorts of Westendorf, Itter, Hopfgarten and Brixen-im-Thale line the valley around the ridge.

The pretty little village of Westendorf has skiing that begins slightly away from the rest of the area, which connects by lift to Brixen im Thale. From Westendorf's own ski area you can also descend on piste to the outskirts of Kirchberg and link into the 170km of the Kitzbühel ski area with a two-minute bus ride. You'll need to buy the larger regional pass to do this, but you can only cover so much terrain in a week, so you'd do best to concentrate on the 279km of SkiWelt.

One of the highlights of the area is Alpeniglu, a snow village of 18 igloos built up the mountain every winter at Hochbrixen. It is also accessible for non-skiers. As well as having a bar made entirely from ice, you can enjoy a fondue on a crystal-clear ice table, spend a night in the romantic Igloo Suite, drink from glasses made of ice, and enjoy some hand-made ice sculptures created by international artists.

At the foot of the mountain all of the resorts have nursery slopes, and the villages are all linked by bus. However, road distances are large and it makes sense to keep a close eye on your watch and allow enough time to return to your base on skis at the end of the day.

You won't find much in the way of nerve-wracking couloirs or craggy peaks in the SkiWelt. Instead, wide, rolling pistes snake across a landscape punctuated by gorgeous chalet-style mountain huts - 77 of them.

Most of the skiing is located between 800m and 1800m, so ideally you need to come here in the middle of a cold, snowy winter to get the best of it.

What you do get is lots of trees. Almost every piste is lined with them, and that means you're going to be able to see to ski whatever the visibility.

Example journey - outbound
Depart London St Pancras on the 15:04 Eurostar to Brussels, arriving 18:05; take the 18:25 ICE from Brussels to Cologne, arriving 20:15; then take the 21:21 NightJet sleeper train to Kufstein, arriving 08:25; from there it's about 30 minutes by taxi.

Example journey - return
Transfer by taxi to Kufstein; depart Kufstein on the 21:35 NightJet sleeper train to Cologne, arriving at 08:15 ; take the 08:43 ICE to Brussels, arriving 10:35; then have brunch and take the 12:52 or 14:52 Eurostar from Brussels to London St Pancras, arriving at 14:05 or 16:05.

---

Kitzbühel and Kirchberg

Resort summary
The medieval silver-mining town of Kitzbühel is set against the dramatic backdrop of the Wilderkaiser mountains and is unquestionably the most beautiful ski town in the Alps. The cobbled main streets of the pedestrianised centre within the buttressed city walls are lined with magnificent frescoed and pastel-painted buildings. The romantic ambiance makes Kitzbühel just as good a destination for non-skiers as it is for skiers.

Wealthy couples in designer ski suits browse the boutiques in the centre that sell jewellery, cashmere and leather, with the odd cobbler and designer pet shop. Don't miss out on the wonderful coffee shops and bakeries in town. Praxmair is the famous café and no one should spend a week in Kitzbühel without coming here at least once for coffee and calorie-rich cakes or Apfelstrüdl.

Kitzbühel is also famous for being home to the Hahnenkamm, the toughest event on the World Cup calendar, which takes place each winter on the Streif race course. The annual television portrayal gives the false impression that this resort is confined to the sort of skiers who happily jump 75 metres then continue downhill at 80mph. In fact, when not prepared for competition, the Streif reverts to a pretty benign family run and most of the skiing here is suited to intermediates. Still, how you skied the Streif top to bottom is always a useful anecdote to pop into any conversation – you don't have to mention that the infamous Mausefalle and the other jumps were missing.

The lift system has been steadily upgraded in recent years, with fast chair-lifts and gondolas relieving any previous bottle-necks. You can seamlessly make your way up the valley to Jochberg, and all the way to Pass Thurn above the town of Mittersill and back again There are few queues, even during high season.

Kitzbühel also has two other smaller and separate ski areas that are often ignored by visitors. The Kitzbüheler Horn, at 2000m is the highest point in the whole area. It's popular with beginners because of the two long easy blue runs that bring you back down. However, there's some more challenging intermediate terrain and a terrain park, although the main park is now located on the Hahnenkamm.

Kirchberg shares the KitzSki area, 170km of it in all, reached from Kitzbühel via the Fleckenalm and Maierlbahn gondolas. However, the two resorts couldn't be more different if they tried.


Kirchberg is a traditional family resort with a relaxed nightlife, sports shops rather than designer boutiques, and without the gorgeous architecture of smarter Kitzbühel - but it is regarded as the more affordable alternative.

This end of the KitzSki area is also handier for getting to the SkiWelt, Austria's largest lift-connected ski area. A gondola links from here to Westendorf, enormously increasing the amount of skiing you can do in a day. A further gondola travels across the Brixen Valley towards the other resorts of the SkiWelt, including Söll and Ellmau.

Example journey - outbound
Depart London St Pancras on the 15:04 Eurostar to Brussels, arriving 18:05; take the 18:25 ICE from Brussels to Cologne, arriving 20:15; then take the 21:21 NightJet sleeper train to Wörgl, arriving 08:36; from there it's about 30 minutes by taxi.

Example journey - return
Transfer by taxi to Wörgl; depart Wörgl on the 21:23 NightJet sleeper train to Cologne, arriving at 08:15 ; take the 08:43 ICE to Brussels, arriving 10:35; then have brunch and take the 12:52 or 14:52 Eurostar from Brussels to London St Pancras, arriving at 14:05 or 16:05.

---

Ski Juwel Alpbachtal Wildschönau

Resort summary
One was the prettiest in Austria, the other a little older but very handsome and ambitious. They'd been giving each other admiring glances for years.
If two ski resorts were perfect for each other it was the Tirolean villages of Alpbach and Auffach. They tied the knot not so long ago and what a lovely couple they make!

It took just one gondolaway, costing 13.5 million euros, to join Alpbach and Wildschonau, of which Auffach is a big part - and Ski Juwel, the name chosen for the combined area of 145-kms of piste and 47 lifts, was created.

With expansive ski slopes over rolling pastures, Alpbach has long been acknowledged as one of Austria's most beautiful villages and generations of British skiers have learned to ski there. It's a charming community of chalets with heavily-timbered balconies, tip-to-toe Tirolean.

Alpbach's slopes are tailor-made for intermediates - an area of family skiing par excellence, reflecting the feel of the village. The network of lifts and slopes is compact but runs are superbly groomed. Upper slopes are above the treeline but soon become tree-fringed - excellent in poor visibility.

Intermediates get a real sense of achievement from the lovely top-to-bottom blues and reds - great for honing carving skills too. There are also some challenges to be found here and there.

Wildschonau, comprising the villages of Niederau and Oberau as well as Auffach, is much older in ski terms. Its first chairlift, also one of Austria's first, was installed in 1945, 15 years before Alpbach got its first. And although Wildschonau is perhaps not such a big name to British ears, it has twice as many as Alpbach's 3,500 holiday beds.

The gondola linking the two has its bottom station at Inneralpbach, and rises to near Auffach's 1,903-metre top station at Schatzberg. The lift follows a strange dogleg route - apparently because one farmer refused permission for it to go over his land.

Wildschonau is as authentically Tirolean as it gets, a lush and fertile hanging valley full of Alpine farms, with sleigh rides, horse-riding in the snow and cleared walking paths. It has a purposeful air - an ancient community of intriguing character.

The valley has unique traditions – such as the right, conferred by royal warrant, to make turnip schnapps (said to have remarkably efficacious properties). An annual turnip schnapps competition is held among Wildschonau farmers.

Auffach has sweeping runs suitable for intermediates all the way to the bottom station, but also nicely challenging and adventurous routes, including the Gern run, from Schatzberg down an often deserted valley. For those looking to test themselves a little, staying in Auffach could be a good bet.

Beginners have dedicated slopes, in the centre of the village at Alpbach, and at mid-station in Auffach.


The other two Wildschonau resorts of Niederau and Oberau are linked to Auffach by regular shuttle bus. Niederau - with lively apres-ski haunts - has excellent nursery slopes as well as a small selection of entertaining reds. Oberau is actually Wildschonau's main village, and although it boasts only a small ski area, does have some lovely historic lodging, so can make a good holiday base.

The link has made Inneralpbach a key junction and a great place to stay to make the most of both ski areas.

If devotees of Alpbach or the villages of Wildschonau had fears the alliance would impact on their intimate, cosy images, they've proved groundless.

The captivatingly rustic feel of each has simply transferred itself seamlessly to a wider area - they're still the lovely Tirolean villages they ever were, but with twice the skiing.

Example journey - outbound
Depart London St Pancras on the 15:04 Eurostar to Brussels, arriving 18:05; take the 18:25 ICE from Brussels to Cologne, arriving 20:15; then take the 21:21 NightJet sleeper train to Jenbach, arriving 08:53; from there it's about 20 minutes by taxi.

Example journey - return
Transfer by taxi to Jenbach; depart Jenbach on the 21:06 NightJet sleeper train to Cologne, arriving at 08:15 ; take the 08:43 ICE to Brussels, arriving 10:35; then have brunch and take the 12:52 or 14:52 Eurostar from Brussels to London St Pancras, arriving at 14:05 or 16:05.

---

St Johann in Tirol

Resort summary
St Johann in Tirol is a town rather than a village, with a thriving commercial life other than simply tourism – and all the more charming for it. It It has a laid-back and welcoming feel and not surprisingly attracts a high proportion of loyal Britons who return year after year.

The town has played a significant part in the Tirol's often tubulent past and is steeped in history. Many buildings boast fine examples of the ancient art of wall-painting, luftlmalerei. To underline its rich history, the 700-year-old bell in the Spitalkirche is the oldest in Tirol.

St Johann's skiing is on the north-facing side of the Kitzbuheler Horn – on the other side is part of Kitzbuhel's skiing. St Johann locals claim they have the snowy side!

The north-facing aspect and plenty of trees protect the snow and St Johann has a reputation for good conditions through a long season. At its outer edges, the network of runs embraces the villages of Eichenhof and Oberndorf. Most of the slopes are tailor-made for intermediates, but an exciting option is the Sauregg, a black FIS slope from the top of the Penzing lift all the way to Oberndorf.

St Johann also has extensive beginners' runs. In total, there are about 40 miles of pistes, served by 17 lifts. Few mountains are better served with cosy restaurants. There are at least 18 on the slopes.

St Johann has a vibrant apres-ski scene, as well as a huge range of off-slope activities, including 40 kilometres of winter walking paths and indoor pools, indoor tennis courts and an ice-rink - and the town has an indoor climbing centre.

Cross-country skiing is big here too - in the valley linking Oberndorf, St Johann and Eichenhof, there are 75 kilometres of beautifully laid-out trails.

Example journey - outbound
Depart London St Pancras on the 15:04 Eurostar to Brussels, arriving 18:05; take the 18:25 ICE from Brussels to Cologne, arriving 20:15; then take the 21:21 NightJet sleeper train to Wörgl, arriving 08:36; from there it's about 30 minutes by taxi.

<Example journey - return
Transfer by taxi to Wörgl; depart Wörgl on the 21:23 NightJet sleeper train to Cologne, arriving at 08:15 ; take the 08:43 ICE to Brussels, arriving 10:35; then have brunch and take the 12:52 or 14:52 Eurostar from Brussels to London St Pancras, arriving at 14:05 or 16:05.

---

Zillertal

Resort summary
The Zillertal, which branches off the wide valley of the River Inn, a 45-minute drive from Innsbruck, is one of the Tirol's great ski areas. With a mighty 515km of pistes and 179 lifts it should qualify as of the world's top 10 regions, but the terrain is split into distinctive sectors that are not linked on the mountain.

Much the most famous of these is Mayrhofen. This is by far the biggest bed base of the valley and it's where most of the UK tour operators have their hotels.

The most luxurious of these is the Hotel Elisabeth, which is set away from the lively main street of this party town that in winter, at least, never sleeps. It is renowned for its youth-oriented après-ski and music festival.

There's a choice of two ski areas in Mayrhofen, covering a total of 136km of piste and served by 46 lifts that are reached by the Ahorn and Penken gondolas. The Penken is the biggest of these and is home to the infamous Harakiri black run which, at 78 degrees of steepness, is ranked among the most extreme marked blacks in the Alps.

Keep on driving up the valley road and you come eventually to Hintertux, the only developed glacier in Europe that offers 365-day skiing.

During the winter the resort offers a 65km network of pistes of all levels. One of the main attractions is the 12km descent of the Gefrorene Wand (Frozen Wall) all the way down to Hintertux.

The main Zillertal ski areas are connected by a choice of bus or a 760mm narrow gauge railway – it even has a couple of steam locos – that chuffs or diesels along the 32km valley floor between Mayrhofen and Jenbach where it links with mainline services. Travel on the regular diesel services as well as the Mayrhofen-Hintertux line is included in the regional Zillertal Superski lift pass.

The first ski area you get to from Jenbach is the Hochzillertal, with main access from the villages of Kaltenbach and from Fügen. In all, there's a respectable 39 mainly high speed lifts serving 87km of highly panoramic cruising terrain. Don't miss out a visit to the Wedelhutte and Kristallhutte, both gourmet mountain restaurants that cater for the predominantly German and Austrian visitors. We consider this to be the best ski area in Zillertal, but it remains largely unexplored by Mayrhofen-based Brits. The piste rise from 560m to 2500m.

Do stop off in Stumm, which is a gorgeous valley village - there's a free bus from Kaltenbach. It has some charming little shops and cafes, and historic four-star Landgasthof Linde, renowned for its gourmet cuisine, makes a delightful base for exploring this end of the Zillertal.

The larger, and classically pretty, village of Zell am Ziller is more or less bang in the centre and set on the banks of the river. The skiing here – on the opposite side of the valley – is known as the Zillertal Arena.

Starting point is the two-stage Rosenbaum gondola, situated 1km from the village and reached by ski bus. From here the 143km of runs stretches as far as Hochkrimml in Salzburgerland, on family-friendly slopes with some long cruising runs. More than 50% of the pistes in this area are graded red. Most impressive is the Übergangsjoch, which begins at 2500m and drops 1930 vertical metres to the valley floor, making it one of Austria's longest runs.

The Zillertal Arena also links Zell am Ziller with Gerlos, which is a straggling resort with some smart hotels lining the through-road. Last winter saw the opening of the new Dorfbahn cable-car in Gerlos.
The Arena Tour is a ski safari that takes in all four sections of the Zillertal Arena in one day.

Each area in the valley has its own lift pass, but if staying for a week or longer we strongly recommend buying the Zillertal Superski pass that covers the whole region. It costs €249 for six days.


Example journey - outbound
Depart London St Pancras on the 15:04 Eurostar to Brussels, arriving 18:05; take the 18:25 ICE from Brussels to Cologne, arriving 20:15; then take the 21:21 NightJet sleeper train to Jenbach, arriving 08:53; from there it's about 30 - 50 minutes by taxi.

Example journey - return
Transfer by taxi to Jenbach; depart Jenbach on the 21:06 NightJet sleeper train to Cologne, arriving at 08:15 ; take the 08:43 ICE to Brussels, arriving 10:35; then have brunch and take the 12:52 or 14:52 Eurostar from Brussels to London St Pancras, arriving at 14:05 or 16:05.

---

Achensee

Resort summary
The little family ski areas of Pertisau and Maurach would never claim to be Tirol's most challenging - but none are more magical. Their extraordinary setting on the shores of Tirol's deepest lake - high in an achingly beautiful hanging valley - has an almost mystic air about it. The two areas face each other across the crystal waters of the Achensee - reached from the Inn Valley either by a twisting, scenic mountain road, or by the historic steam cog railway from the Jenbach valley station.

The delightfully uncrowded Zwölferkopf ski area is reached by cable-car from the lakeside village of Pertisau and its blue and red runs are perfect for intermediate, family skiing. Across the lake in Maurach, a cable-car rises to the Rofan ski area, again ideal for beginners and families, but also with a two-kilometre black run (and the thrilling 80kph Rofan Sky Glider for extra excitement). And from both Pertisau and Maurach, the lake and mountain panorama is unrivalled.

Example journey - outbound
Depart London St Pancras on the 15:04 Eurostar to Brussels, arriving 18:05; take the 18:25 ICE from Brussels to Cologne, arriving 20:15; then take the 21:21 NightJet sleeper train to Jenbach, arriving 08:53; from there it's about 12 - 25 minutes by taxi.

Example journey - return
Transfer by taxi to Jenbach; depart Jenbach on the 21:06 NightJet sleeper train to Cologne, arriving at 08:15 ; take the 08:43 ICE to Brussels, arriving 10:35; then have brunch and take the 12:52 or 14:52 Eurostar from Brussels to London St Pancras, arriving at 14:05 or 16:05.

---

Olympia SkiWorld Innsbruck

Resort summary
Innsbruck is a captivating and elegant city at the centre of a feast of skiing – by checking in at the Tirolean capital you can enjoy the ultimate in apres-ski while experiencing world-class skiing and boarding at a different resort each day. But this is also an ideal resort if you want to mix top quality skiing with a trip to a vibrant, engaging city.

A whole collection of ski areas surround the city and can be skied on the same ski-pass. Innsbruck actually has a lift from the city centre, the Hungerbergbahn cog railway, linking via cable-cars into the skiing at Seegrube-Nordkette.

This is the city's 'back garden' skiing, with super intermediate slopes commanding awesome views – and towering above is the Karinne run, one of the world's most fearsome.

One of the best-known of the holiday villages around Innsbruck, which has twice hosted the Winter Olympics, is Igls, base for the Patscherkofel ski area, which will have the lift replaced with a new one.

It was here in 1976 that a yellow cat-suited madman called Franz Klammer hurled himself down the mountain in a reckless, and successful, attempt to secure gold in the Winter Olympics Men's Downhill.

Visitors can still do the run, now interwoven with a blue version for the more cautious. A cable-car takes skiers to the summit, from where Innsbruck is dramatically stretched out below. In good snow, fabulous off-piste is possible through the trees.

A little further out is Axamer Lizum, with a varied selection of red and blue runs and an efficient lift network. There are steep slopes and good bump runs and a great deal of off-piste on exciting terrain, with gullies and gun-barrels. A wonderful treat is a seven-mile technically off-piste but well-travelled route from just below the Pleisen summit to the outskirts of Axams, a perfect end-of-the-day run.

Nearby is the delightfully named Oberperfuss Rangger Kopfl, where a gondola serves family-friendly slopes - as well as a 10-kilometre toboggan run. This area's a must if just to tick off the name!

West of Innsbruck is Kuhtai – great for a day trip from Innsbruck, but also ideal for longer. It's one of Austria's most snow-sure resorts, at 6,560ft, on uncrowded slopes (it's where the TV show The Jump is filmed). The area is renowned for ski touring, with routes stretching out into the Stubaital and Otztal.

Another delightful resort is Muttereralm, re-launched in 2006 after being closed for six winters. There's enticing skiing here for all levels and beginners are well catered for on good nursery slopes.

Heading into the stunningly beautiful Stubai Valley brings you to Fulpmes, whose skiing area glories in the name Schlick 2000. The main skiing, reached by gondola, is in a huge bowl protected by surrounding ridges. There's enough to keep intermediates very well entertained, but also some seriously challenging off-piste.

At the far end of the valley is the magnificent Stubai Glacier, offering the ultimate snow guarantee with pistes at more than 3,000 metres – for wonderful ski days above the clouds.

Finally, east of Innsbruck along the Inn Valley brings you to the magical little area of Glungezer, a locals' favourite. And it proudly boasts the longest run in Tirol: a 15-kilometre-long piste from Schartenkogel down to the village of Tulfes. Now who knew that?

*The Olympia SkiWorld pass includes all nine resorts, with 90 lifts and cable cars and 300-km of pistes. There are free ski buses from Innsbruck to all of them.

Example journey - outbound
Depart London St Pancras on the 15:04 Eurostar to Brussels, arriving 18:05; take the 18:25 ICE from Brussels to Cologne, arriving 20:15; then take the 21:21 NightJet sleeper train to Innsbruck, arriving 09:14. Some resort villages are 10 - 30 minutes by taxi.

Example journey - return
Depart Innsbruck on the 20:44 NightJet sleeper train to Cologne, arriving at 08:15 ; take the 08:43 ICE to Brussels, arriving 10:35; then have brunch and take the 12:52 or 14:52 Eurostar from Brussels to London St Pancras, arriving at 14:05 or 16:05.

---

Obergurgl-hochgurgl

Resort summary
If not for the ambition of hot air balloonist Professor Auguste Piccard, Obergurgl may have remained an anonymous farming village rather than the lofty snowsure top name ski resort it has become.

Trying to cross the Alps at stratospheric level in 1931, the Swiss adventurer and physicist was forced to land on a glacier near Obergurgl and was rescued by local teacher and mountain guide Hans Falkner – an incident that brought instant fame, followed shortly afterwards by fortune, for Obergurgl. The world's press beat a path here and Obergurgl was headline news. The Gurglers have never looked back.

They realised their terrain was ideal for wintersports and it wasn't long before they were installing ski-lifts and building hotels.

At the head of the Oetz Valley in Tyrol, the resort comprises Obergurgl, the highest parish in Austria, and Hochgurgl. Each have their own skiing, but are linked by one of Europe's longest gondolas, the Top Express.

With 110-kilometres of runs, Obergurgl's reputation is based on its snow reliability - the top station is at 10,140ft. This is a resort tailor-made for intermediates and families, with excellent facilities for beginners too, and a traditional Tyrolean atmosphere.

Most accommodation is based on high-quality hotels, largely three and four-star, with a couple of five-star.

Visitors who love the wide, well-groomed slopes return year after year. You can't be left stranded when the lifts close. All runs end down in the valley.

This can be an excuse to stay up the mountain for one more schnapps or gluhwein at a mountain restaurant such as the Nederhutte – which can become seriously lively as the sun goes down, with dancing on the tables to live music a frequent occurrence. Later, the easy run back to the village from the Nederhutte is often floodlit.

Obergurgl, which made further headlines in the Nineties with the discovery on the glacier of 3,500 year old Oetzi, a copper age traveller found frozen in time with an arrowhead in his shoulder (from a feud or a chance meeting with mountain muggers no one knows), has a surprisingly lively nightlife in a number of bars and discos.

Example journey - outbound
Depart London St Pancras on the 15:04 Eurostar to Brussels, arriving 18:05; take the 18:25 ICE from Brussels to Cologne, arriving 20:15; then take the 21:21 NightJet sleeper train to Innsbruck, arriving 09:14. From there its 95 minutes by taxi.

Example journey - return
Depart Innbruck on the 20:44 NightJet sleeper train to Cologne, arriving at 08:15 ; take the 08:43 ICE to Brussels, arriving 10:35; then have brunch and take the 12:52 or 14:52 Eurostar from Brussels to London St Pancras, arriving at 14:05 or 16:05.

---

Ischgl

Resort summary
Cocooned in the steep-sided and heavily-forested Paznaun Valley, in the heart of the Silvretta Mountains at the western end of Tyrol, is the resort of Ischgl, one of Austria's top ski towns.

The vast ski area is cross-border, with many runs on the Swiss side centred on the duty-free village of Samnaun.

Ischgl's lift system, which saw its first cable-car in 1963, is now one of the most sophisticated in the Alps. It has led the way in the installation of high-speed detachable lifts with magic-carpet loading and weather-bubbles.

The skiing - about 130-miles of runs served by 42 lifts - is accessed from Ischgl by no fewer than three gondolaways, boasting heated seats. The top lift station is at 9,420ft and has a vertical of nearly 5,000ft. Its height ensures a long season, from the end of November to the beginning of May.

The skiing options for all standards are wide - as are the slopes themselves! Genuinely testing black runs are there for experts, while the bulk of the skiing is perfect for intermediates. Beginners have their own dedicated area, on good snow at the mid-mountain hub of Idalp. It also has one of the best terrain parks in Europe.

Food options on the mountain are wide – with fine dining on offer at the all-glass Pardorama restaurant, as well as at the Alpenhaus