Eurostar + Intercités de Nuit
Introduction
Taking a Eurostar to Paris and then an Intercités de Nuit couchette sleeper train from Paris to the Alps is quite a good way to get two extra days on the slopes. There used to be sleeper trains from Paris to many parts of the Alps.
Then in 2016, SNCF axed some of the routes. It was a brutal cull of popular train options.
These two routes were axed:
Paris - Moutiers, Aime, Landry and Bourg St Maurice
Paris - Annecy, Cluses, Sallanches and St Gervais
Because of this, here's a list of resorts no longer served by these sleeper trains from Paris:
Avoriaz, Brides les Bains, Courchevel, Flaine, La Clusaz, La Plagne, La Rosiere, La Tania, Le Grand Bornand, Les Arcs, Les Carroz, Les Contamines, Les Gets, Les Menuires, Manigold, Megeve, Meribel, Morillon, Morzine, Peisey-Vallandry, Sainte Foy, Samoens, St Gervais, St Martin de Belleville, Tignes, Val d'Isere, Val Thorens and Valmorel.
But - good news:
The French Government and SNCF have decided to reinstate the above to routes in 2026. So sleeper trains will return fully to the French Alps!
NB: Something should be said about names. We at Snowcarbon now call these trains 'couchette sleeper trains from Paris'. The trains used to be called 'Corail Lunea' - which kind of sounded nice. Then in 2014 SNCF decided to 'rebrand' them as 'Intercités de nuit'. As this name is not very memorable, and few people have even heard of this new name, we just say 'couchette' and 'sleeper' for clarity.
---
Paris - Briancon and Paris Latour-de-Carol still running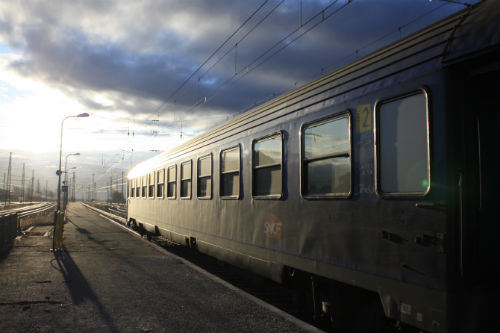 However, one of the lines that was retained was Paris - Briancon.
The key resorts still served by sleeper trains from Paris to Briancon: Montgenevre, Serre Chevalier
The other was Paris - Rodez/Latour-de-Carol
Key resorts served: (in Andorra) Pas de la Casa, Soldeu
In the section below, you can find out more about how to do it.
---
Step 1: Take a Eurostar to Paris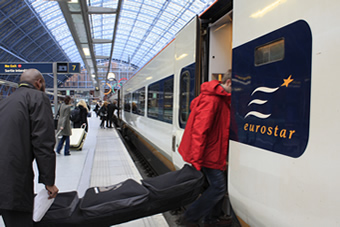 You get on the Eurostar, sit down, have a chat with your friends, go to the cafe bar, read a book, look at the scenery gliding by, share a joke with a fellow passenger.
There are lots of great ways to use the time and then before you know it your Eurostar is arriving in Paris-Nord.
You may also want to see our guide to what the Eurostar is like.
---
Step 2: Change from Paris-Nord to Paris-Austerlitz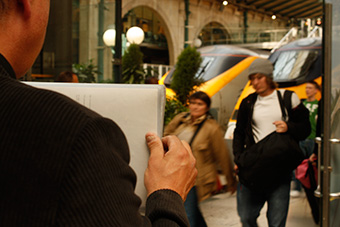 So next you want to get from Paris-Nord, where the Eurostar arrives, to Paris-Austerlitz - the station from where the Corail Lunea trains depart, bound for the Alps.
The easiest way to do that is with a pre-booked taxi, where the driver waits for you at the end of the Eurostar platform, holding a placard with your name. But there is also a taxi rank, a 50 metres to the right of the Eurostar platform.
You can take the Metro, but if you have a fair bit of luggage avoid this, as the section from Paris-Nord to Paris-Austerlitz requires going up and down some stairs. When you get to Gare d'Austerlitz, you can have dinner opposite the station, or bring some food onto the Corail Lunea.
You can find all about these options in our guide to changing station from Paris-Nord to Paris-Austerlitz
---
Step 3: Overnight to the Alps on the Corail Lunea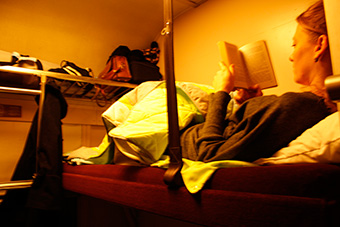 There's something about getting on an overnight train that is always a bit exciting - but never more so than when you are headed for the Alps.
You'll see Paris slipping away through the window, then the suburbs and then you are into the countryside.
In the morning you'll wake up close to the slopes and be able to ski shortly afterward, while thousands of other skiers are standing in airport queues or cooped up on long transfers.
Now, French Corail Lunea trains are not built for luxury and they are cosy, not spacious. But they do the job and you can lie flat and get a good night's sleep, dreaming of the slopes.
You may also want to see our guide to what the Corail Lunea sleeper train is like.
---
Step 4: Transfer to your resort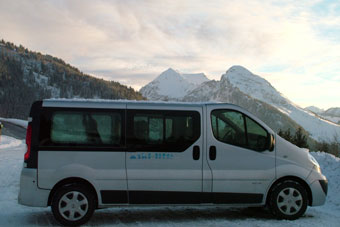 The final step is to get from the train station to the ski resort. These transfers are typically between 15 minutes and 45 minutes, and are far shorter than airport transfers - which can take 1.5 - three hours - or even longer.
It's a good idea pre-book a taxi transfer (although you can also find a taxi driver on the spot too).
There are also buses from train stations to ski resorts, usually timed to coincide with the arrival of the Corail Lunea train.
For every ski resort on the Snowcarbon website, we have a transfer guide page to show you taxi and bus options and how to book them.
---
London to Briancon (via Paris) - journey schedule winter 2022-23
This is the journey schedule, which runs everyday, from London to Briancon via Paris.
London and Paris to Briancon
Dep
London St Pancras
15:31/16:31
Arr
Paris-Nord
18:47/19:47
Transfer from Paris Gare du Nord to Paris Gare'd'Austerlitz
Dep
Paris-Austerlitz
20:50
Ski resorts served
Arr
Veynes
06:22
Super Devoluy
Arr
Gap
06:51
Praloup
Arr
Embrun
07:30
Les Orres
Arr
Montdauphin
07:49
Risoul, Vars
Arr
L'Argentiere-les-Ecrins
08:03
Puy St Vincent
Arr
Briancon
08:22
Montgenevre, Serre Chevalier

Oddly, about eight years ago the sleeper train from Paris to Briancon used to depart later (at 22:10) and yet still reach Briancon at the same time (about 08:30). Why is it slower now? We are trying to get influential local politicians to ask SNCF this question.

Briancon to London

---

Returning from the Alps to London service, the following trains will still run for the 2016-17 winter season (and beyond):

Briancon to Paris and London

Depart
Depart
Arr. Paris Austerlitz
Ski resorts served
Dep
Briancon
20:23
Montgenevre, Serre Chevalier
Arr
L'Argentiere-les-Ecrins
20:42
Puy St Vincent
Arr
Montdauphin
21:00
Risoul, Vars
Arr
Embrun
21:18
Les Orres
Arr
Gap
21:58
Praloup
Arr
Veynes
22:33
Super Devoluy
Arr
Paris Austerlitz

---

The Eurostar + sleeper train journey

Twelve of us travelled to the Portes du Soleil by Eurostar to Paris, and then a sleeper train to the Alps, and made a film of the journey.

We travelled in Standard Class on the Eurostar and Corail, sleeping in a six-berth couchette.

The journey was a lot of fun, a good way for friends to socialise on the way and get to know each other at the start of the holiday.

Read more about the onboard experience of the sleeper train here.

---

How to book an 'espace privatif' (private couchette)

Couchette compartments contain either six berths (Standard Class) or four berths (First Class). However, if you are 4 or 5 people in Standard Class, or if you are 1, 2 or 3 people in First Class, you can have privacy and book the whole couchette to yourself, simply by paying an 'Espace privatif' supplement.

Not a lot of people know this is possible, and indeed we discovered it from the excellent Mark Smith, founder of rail website The Man in Seat 61.

How to book:
Loco2.com: not bookable on Loco2
Capitainetrain.com: Currently you can only book this for First Class travel, which gives you the option to select a 'First Class compartment'.
Voyages SNCF (online): not bookable online
Voyages SNCF (phone): you can book this on the phone (0844 848 5 848). Be aware that some of their staff may not have heard of this, so you might diplomatically have to ask for a supervisor, in that case.

How much does it cost:

| | | |
| --- | --- | --- |
| Class | Minimum number of people | Total supplement required |
| First Class | 1 | €70 |
| First Class | 2 | €50 |
| First Class | 3 | €40 |
| Second Class | 4 or 5 | €45 |