Paris stopover journeys to the Alps
Stopping one night in Paris opens up a range of morning TGV train-travel options, getting you into resort earlier
Introduction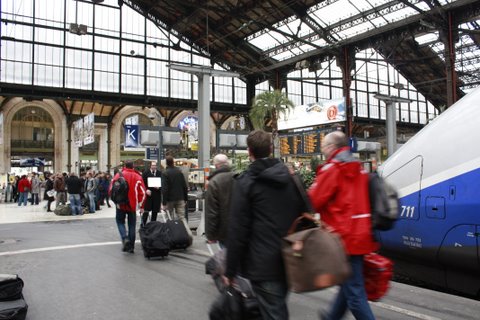 Paris stopover journeys are a great way of travelling to the Alps. They make the journey very relaxed and mean that you arrive at your ski resort earlier than you would have done if you'd travelled straight through from the UK the next day. And by spending a night in Paris on the outbound journey, and then taking a fast train the next morening, you actualy have a wider range of ski resorts that you can reach: even further flung destinations come into range.
When you arrive in Paris on the Eurostar, you take a taxi - from the taxi rank at Gare du Nord or with a pre-booked taxi that meets you at the Eruostar platform or outside Gare du Nord. There are lots of clean, comfortable, inexpensive hotels close to Gare de Lyon, and the journey from Gare du Nord (where your Eurostar arrives) is about a 20-minute drive. You arrive at hotel and can then go out for dinner or to explore Paris if you like. Then, next morning you just walk about 150 metres to Gare de Lyon, and walk onto your TGV train and head to the Alps.
You can choose your Eurostar to give you more, or less, time in Paris. And for travel the next morning, there are lots of TGVs that depart Paris in the morning headed for French, Italian, Swiss and even Austrian ski resorts.
Travelling this way, you can arrive in resort by lunchtime and in many cases can ski in the afternoon - a bonus half-day's skiing that no one else travelling straight through will have.
Further down this page we've listed some good hotels that you can stay at right by Gare de Lyon.
---
Le Paris Stopover - the film
Snowcarbon Founder, Daniel, has travelled this way with big groups of friends and found that it works really well.
The relaxed journey and the stop in Paris give even more opportunity for making the journey part of the holiday. In Paris there are lots of hotels that are right by Gare de Lyon, so that after a good nights sleep you can wake up freshed, walk out of your hotel, then 100 metres to the station and straight onto the train (perhaps picking up freshly baked croissant from the bakery by the station or the cafes inside).
He has created a two-minute film a recent trip, showing how the group travelled and had fun on the way and sneaked an afternoon on the slopes once they arrived, as this film shows.
---
Examples of morning TGV trains from Paris to the Alps
| | | | | |
| --- | --- | --- | --- | --- |
| Depart Paris-Lyon | Destination | Arrive | Resorts served include | Days of week |
| 06:28 | Oulx | 11:23 | Montgenevre, Sauze d'Oulx, Sestriere | Everyday |
| 06:49 | Moutiers | 11:03 | Meribel, Courchevel, Val Thorens | Saturdays |
| 07:11 | Cluses | 11:08 | Avoriaz, Flaine, Les Gets, Morzine, Samoens | Sat, Sun |
| 07:11 | Sallanches | 11:36 | Megeve | Saturdays |
| 07:11 | St Gervais | 11:45 | St Gervais, Les Contamines, Chamonix | Sat, Sun |
| 07:49 | Moutiers | 12:13 | Meribel, Courchevel, Les Menuires, Valmorel, Val Thorens | Sat, Sun |
| 07:49 | Aime-la-Plagne | 12:31 | La Plagne | Sat, Sun |
| 07:49 | Bourg St Maurice | 12:52 | Les Arcs, Sainte Foy, La Rosiere, Tignes, Val d'Isere | Sat, Sun |
| 08:45 | Moutiers | 12:59 | Meribel, Courchevel, Les Menuires, Valmorel, Val Thorens | Sat, Sun |
| 09:49 | Moutiers | 14:29 | Meribel, Courchevel, Les Menuires, Valmorel, Val Thorens | Sat, Sun |
| 10:11 | Cluses | 14:50 | Avoriaz, Flaine, Les Gets, Morzine, Samoens | Saturdays |
| 10:11 | Sallanches | 15:08 | Megeve | Saturdays |
| 10:11 | St Gervais | 15:19 | St Gervais, Les Contamines, Chamonix | Saturdays |
| 10:41 | Oulx | 15:23 | Montgenevre, Sauze d'Oulx, Sestriere | Everyday |