"This trip had a lot riding on it"
This trip had a lot riding on it: our first time leaving the UK since the Covid-19 pandemic struck
"This trip had a lot riding on it: our first time leaving the UK since the Covid-19 pandemic struck. First time travelling abroad since Brexit. First time making turns on real snow in two years… It was high stakes and we were really hoping it would deliver!

Myself and my wife have travelled to Europe by rail a reasonable amount over the last few years, generally piecing together journeys ourselves with the help of resources like Snowcarbon, travelling indirectly or using the direct Eurostar Ski Train. We love adventures in the high mountains: walking in the summer and skiing in the winter, and rail is a relaxing and sustainable way to get there whilst enjoying the scenery. We've traditionally visited big linked ski areas like Portes du Soleil or Paradiski, both as a couple and in a mixed family group. We love exploring and clocking up the miles on our skis.

This time it was just the two of us and we were heading for Alpe d'Huez in the French Alps — keen to try somewhere a bit different to our usual haunts. Sure, it's not quite in the 'mega resort' category of some of our previous trips (though a planned gondola link to Les Deux Alpes could change that over the next few years), but is a good size (about 250km of runs) and looked to have plenty of variety to keep us busy for a week. As soon as we realised how quick it was to access via train from Paris to Grenoble, we were sold.

So it was with all of the above in our heads that we boarded an Avanti West Coast train to London on a Friday evening in February. We usually try to get to London the night before our departure to France, staying overnight in one of the hotels across the road from St Pancras Station to break the journey (there's a wide variety to choose from at various price points). We then aim for an early Eurostar departure on Saturday morning, arriving in resort the same day.

In the blink of an eye, we were at the Eurostar ticket gates. When we travelled, Covid-19 pre-departure testing and vaccine passports were still required to enter France, so in addition to our tickets we had various other pieces of paperwork (however, at the time of writing, some of this has since been relaxed). Brexit has also added a few other administrative twists to the outbound and return check in process. This combination of Covid and Brexit means Eurostar are currently advising arriving earlier than usual to check in - something that is a bit of a shame - a great advantage of Eurostar over flying has traditionally been that the check in process has been more streamlined than at an airport. Hopefully as things become more normal, so will the timings! All that being said, our checks were completed efficiently and the Eurostar staff were extremely friendly and helpful… Next stop France!

The Eurostar journey was fast and smooth. The main noticeable difference from before the Covid-19 pandemic was the need to wear a face covering during the journey, something required by French law at the time of writing. The trains are spacious, clean and comfortable, with plenty of space for luggage (and no need to pay extra for large bags or skis).

The moment we saw daylight as we exited the Channel Tunnel felt particularly significant – international travel was definitely back!

We arrived on time at Paris Gare du Nord. What's particularly pleasant about Eurostar is that you pre-clear the French border on departure back in the UK, so upon arrival you just walk off the train. No extra passport queues, no baggage claim, easy… The next leg of our journey was transferring to the Gare De Lyon, from where most of the French high-speed 'TGV' trains to the Alps depart. On previous trips, we've done this a few ways: either taking the RER (Paris suburban rail system) or queuing at the public taxi rank upon arrival. This time, we had pre-booked a private taxi transfer using City Airport Taxis, one of the providers recommended by SnowCarbon. This was by far the best experience crossing Paris we've had, and we'll definitely be doing it again in future. For about £30 pounds 'all-in' a driver was waiting at a pre-agreed meeting point right outside the station entrance, something we very much appreciated with our heavy ski bags in tow. We had been sent clear instructions as well as several contact numbers the night before. It all worked perfectly, the driver was very helpful and dropped us outside the Gare De Lyon about 35 minutes later.

We had allowed ourselves about two hours to transfer, mostly so that we could get some lunch, so we had plenty of time. There's lots to choose from either within the station, or just outside: anything from multi-course fine dining to sandwiches and snacks. We opted for the latter. If you're keen to speed the journey up, in our experience allowing an hour's transfer time should be sufficient.

Lunch done, we boarded the final rail leg of our journey, a direct TGV to Grenoble in the foothills of the French alps. This took about three hours and all ran perfectly to time. Much like Eurostar, TGV trains are significantly larger than the intercity rail services we're used to in the UK, with plenty of legroom, lots of luggage space, and decent WiFi. We particularly like the way that travelling by rail in Europe connects you with your surroundings; seeing the sunset skimming snowcapped mountains as we approached Grenoble was amazing.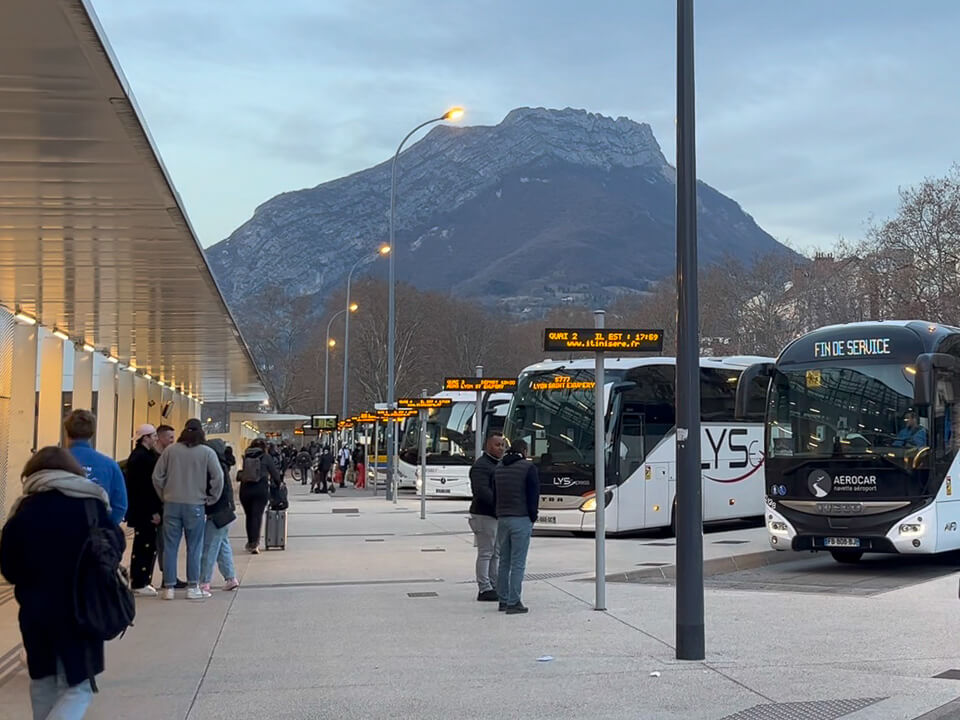 Alex Rawcliffe
It was our first time at Grenoble station. It's fairly compact and the final leg of our journey, a pre-booked coach up the mountain, was easy to find - the bus station is directly outside the railway station. We booked this final stretch with Transaltitude, who operate shared road transfers from Grenoble to a variety of ski resorts in the Isère region, Alpe D'Huez being one of their more popular destinations. Buses depart regularly all day, and are well timed to connect with trains. The bus station is well signed and the stops all have clear electronic displays indicating where each coach is going. The coaches are comfortable and again have plenty of luggage space (skis, ski boot bags etc. are all free). We paid about £60 for a pair of return tickets. The bus departed on time and took us direct to resort. There was a bit of traffic on our way up the mountain (it being a Saturday in both British and French half term), but we got there and were dropped in the centre of town about a five-minute walk from our accommodation (we had a choice of a few stops, and they were all announced as we arrived).

"We had made it! We chose to stay self catering at the Chalet Des Neiges Daria-I Nor, which is a combination of a hotel and apartments with some shared facilities. We've previously stayed with Chalet Des Neiges in Les Arcs and found their accommodation good quality, and the customer service excellent (both during booking and in resort).
"So, how was our week? In a word, excellent. I'll cover four areas below: accommodation; weather; skiing and the resort itself.

Our apartment was really convenient for wandering into town after a good day's skiing and it was also next to a new cross-town gondola that connects with the bottom of the main lifts in the Bergers quarter (one of the main ski areas in Alpe D'Huez). With the help of this lift, it took us about five minutes to get to and from the slopes each day. There were also some green runs from the apartment block down in to the town centre.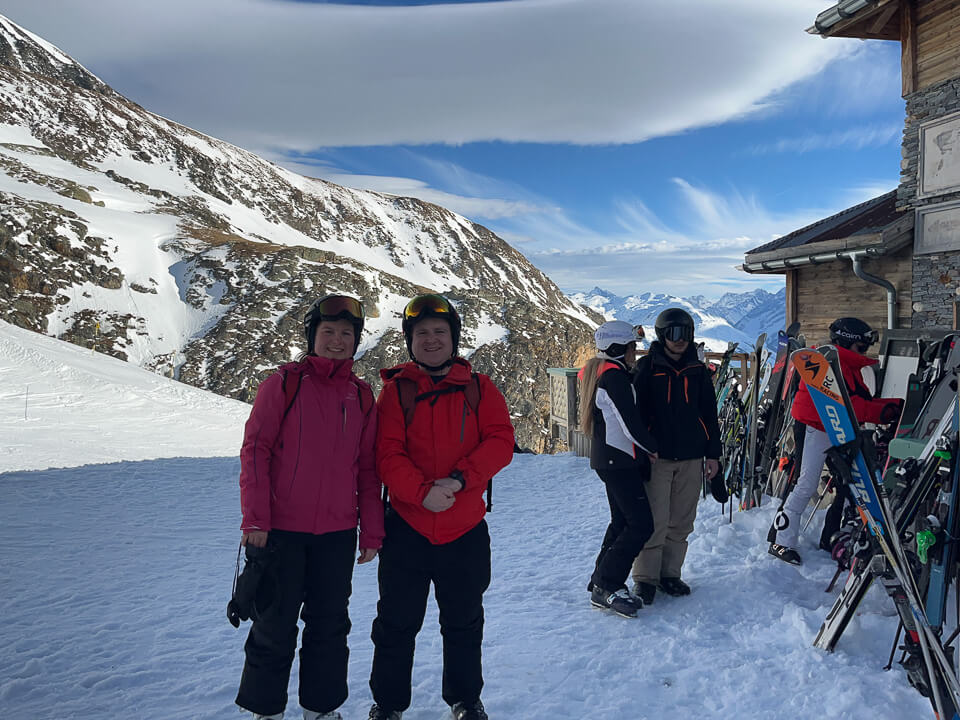 Alex Rawcliffe
The weather was mixed during the week we stayed. Our first day on the slopes was clear and sunny - a great way to wake up and start exploring. However, after a very sunny January, the runs were definitely suffering. Whilst the snow depth was fine, a lot of freeze-thaw cycles meant many of the runs were icy with manufactured snow on top. It was with mixed emotions then, that the sunny start to our week was followed by several days of heavy snow showers. The powder skiing was a lot of fun, and once pisted the slopes were wonderfully grippy. The snowy weather kept the lift queues short and we actually covered a lot of ground. For our final few days, the sun returned and it was very mild, with almost spring-like conditions.

We found there was enough skiing to keep us satisfied for the week, though by the end of our stay we had covered most runs. There is a great variety: the main bowl has the best beginners' area we've ever seen with loads of wide greens and blues, fantastic for new skiers perfecting their first turns or intermediates honing their carving. The only problem with the layout of the ski area is that it's a bit 'hub and spoke': the main uplifts in the Alpe D'Huez bowl can get quite busy as everyone needs to use the same key lifts to get around. That said the lifts are fast and modern. Interestingly there are a large number of 'hybrid' chair/gondola lifts - being able to choose a gondola cabin was a real bonus during the snowy weather. As you might expect, the runs get quieter the higher you go (the lifts top out at a lofty 3000 metres), and once up there, you have access to some really cute areas over in adjacent valleys (we particularly enjoyed the tree lined runs in Oz En Oisans and Auris). Outside of the main bowl, we found plenty for the more advanced skier, with a good choice of red and black runs of various lengths. Finally, it's worth noting that the ski passes are decent value given the size of the ski area, and the modern lift system - a pro tip: there are often discounts if you book your ski pass in advance online - and for a few euros most resorts will post your passes to you at home in the UK, which is a great way to avoid a long queue on the first morning!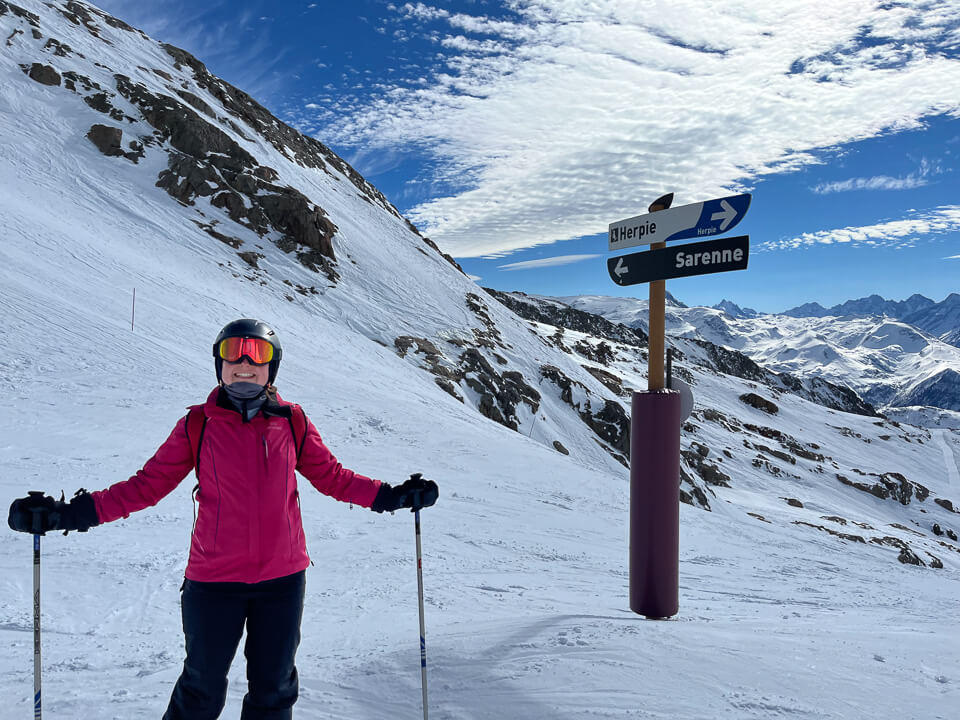 Alex Rawcliffe

Alpe D'Huez as a resort was a great base. Whilst it's a purpose-built resort, it's pretty tastefully done, with lots of traditional timber construction. Being purpose built also brings scale: there's loads going on in the town, including a fantastic ESF instructor-led ski show midweek during peak season. We found plenty of great bars, shops and restaurants. We particularly recommend Pâtisserie Confiserie Jannin to pick up something sweet - one look at their window display and you'll be hooked! On the slopes, if you're up to skiing over to it, we particularly enjoyed the very cute Restaurant L'Aventure: the owners were so welcoming and it has a great warm and homely style.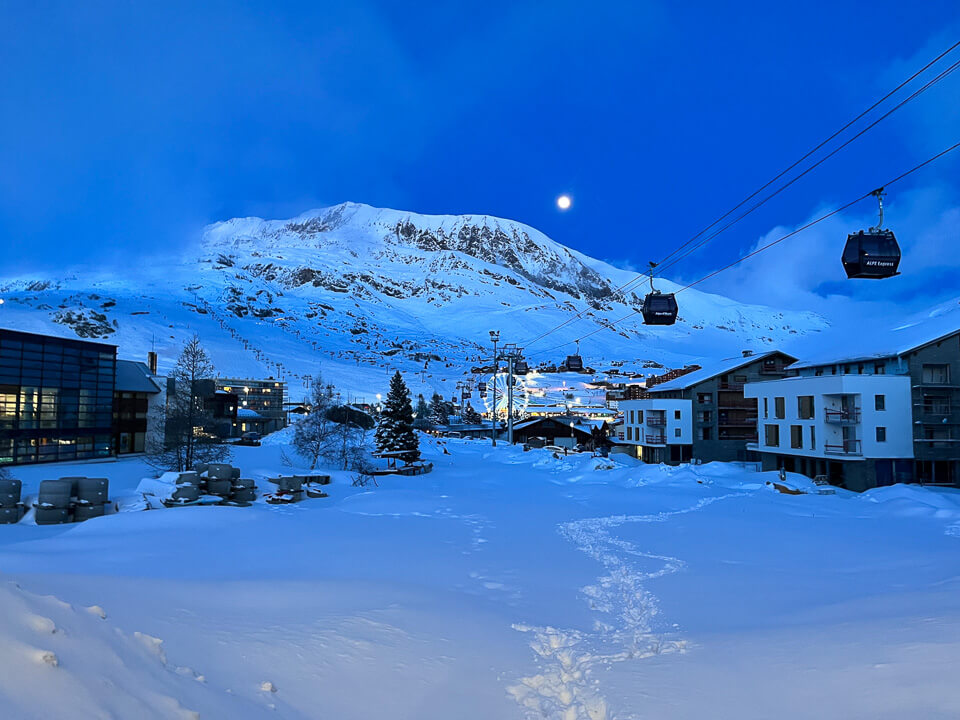 Alex Rawcliffe

All too soon it was time to head back. We dutifully filled in our UK Covid-19 passenger locator form, and then essentially ran our outbound journey in reverse. Our Transaltitude transfer down the mountain departed on time at 07:30 on Saturday morning and actually arrived in Grenoble about an hour ahead of schedule! This meant we had time to enjoy a great breakfast at a cafe opposite Grenoble station. We were in Paris by lunchtime and had another great transfer between stations with City Airport Taxis. We had plenty of time for a relaxed meal near the Gare Du Nord before checking in to Eurostar early evening. Because we had made an early start, we managed to make it back home the same day.

Overall, we loved our trip - and would definitely recommend Alpe D'Huez - particularly as it is one of the quicker resorts to get to by train from Paris (for example our three-hour TGV to Grenoble would have been a five-hour train to Bourg St Maurice if we were heading for Les Arcs). That said, the resort really could do much more to promote getting there sustainably. Whilst its tourism website does mention arriving by train and coach, the information is secondary to car and air, and the resort provides few incentives to encourage sustainable travel (for example, in Les Arcs those arriving by train get a free transfer up the mountain). The sheer number of private vehicles causing traffic jams on the way up the mountain was a bit sad to see - especially when our coach was only half full. Come on Alpe D'Huez, do your bit to protect our winters - we'll be back sometime to check on how it's going!"