"Like skiing through a film set"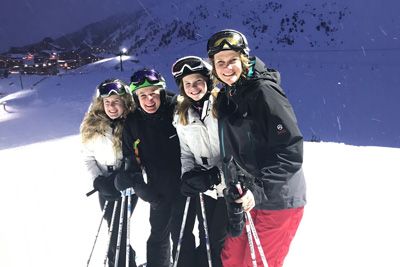 I can't thank you enough for the most blissful of journeying. I can't quite believe we were able to take trains all the way to Les Arcs. We went by Eurostar to Paris, stayed a night there in an AirBNB and then took at TGV the next morning. Even with the night in Paris, it was still cheaper than travelling straight through the same day. The journey was so relaxing, did loads of work and thoroughly enjoyed the whole experience! Free from traffic too!! We booked the journey on your advice through Rail Canterbury, and the accommodation in Arc 1950 with Erna Low.

We completely loved the ski in and ski out. Every morning, skiing through the village onto the slopes was like skiing through a film set: someone would come out carrying a tray of pastries from their shop; someone would be digging off the snow from the path; a different French 'pooch' would be taken for a walk each morning, and if they are particularly well groomed they may even be sporting little plastic booties; couples would be chatting; children queuing up right there for ski school. Honestly, the Director of the film could not have set it up better! All perfect!

Then there was the après ski experience: saunas and outdoor jacuzzis; dancing and singing in bars, everyone coming together to do the mamba in true collaborative spirit! Everything was so close and convenient to get to. It's all on the doorstep; no lugging of skis in ski boots everywhere, no buses or traffic. Despite all the proximity there was surprisingly no noise at night - possibly because Arc 1950 seems to attract a lot of families, witnessed by the many kids sledging outside in the evening. The supermarket was well stocked and if the restaurants are all full, as was the case on our first night, we still managed to buy a delicious take away pizza to have in the apartment.

Thank you for your perfect recommendation, Daniel, and enabling it to happen last minute after all other agents were telling us otherwise!