"A really nice way to be introduced to skiing"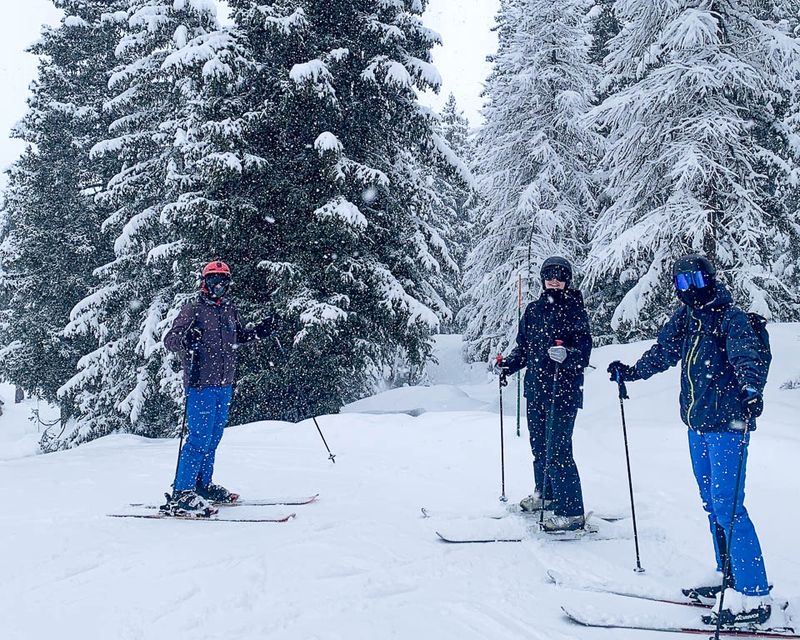 The first time I went skiing, I flew. The luggage limits and liquids allowances and all of that nonsense fills your brain.
My second proper time skiing was when I took the train in February 2023. We went to La Rosiere in the French Alps. This time we went by train: London St Pancras to Bourg St Maurice on the Travelski express, followed by a bus from Bourg St Maurice to La Rosiere.
I live in Pimlico, so getting to St Pancras was a super easy direct tube, which made me really happy. We're extremely lucky in London to have really accessible sustainable transport and the great thing about going from London is that everywhere is pretty much open from 5 am. You can rock up, glassy-eyed, and grab a coffee at stupid o'clock.
We were meant to get the overnight train, but it got cancelled! Travelski put us on the next available train the following morning, leaving at about 7.30am, so we had to be at St Pancras just after 5am. But it really didn't make a difference because we weren't planning our entire lives around, 'oh god, we've got to go to an airport. We're gonna miss our flight'. I think because it feels more casual and relaxed to go by train, we just took it in our stride and luckily we were refunded for a day's skiing.
In fact, we had all been wondering about how we were going to manage to sleep on the overnight train. So going in the day was a sort of relief. It was really easy - super simple. I think there's almost a childlike excitement about getting the train abroad, it feels like a school trip, everybody's in very good spirits.
For example, they have the piano in Kings Cross. So whoever's heading to work at that time is then going and playing the piano and everyone in the queue's watching. You don't get those nice experiences in a cramped Heathrow.
We spent most of the journey munching on food, reading and we got a little bit of sleep. It wasn't rammed, there was lots of space and people were generally really courteous. In our case, you could take yourself away and sit in an extra seat so it felt very leisurely. There are definitely lots of big groups travelling, so I would say don't bank on sleep; take games. I'd also say utilise the fact that you can take nice food on board and pack plenty of snacks.
When we pulled into Bourg, the bus transfer took quite a long time to arrive but after sitting on a train for eight hours, we were all happy to be outside. The rugby was on and someone we didn't know had put it on their phone so we all huddled around and watched, so there was a community spirit.
The bus itself is not for those with a weak stomach. Those hardcore French coach drivers…you just close your eyes and think, do I believe in God?
The resort was really nice and the private lessons didn't break the bank and were really worth it. It made it a lot easier for us and especially for our friend who hadn't skied before.
We had a completely mixed ability. One of us grew up skiing in Switzerland, so for them, it's as natural as walking. One of us had never skied before, I had skied once and the other had been skiing a handful of times. The resort had lots of greens, and lots of blues which was great for us, and in general, there were some young people but a lot more families so I think it does have a great spread for beginners.
It was such a crazy mix of weather though, which was wonderful because you're thrown in the deep end, in all-terrain, whether you can see or not.
You can skip over to Italy for lunch – a good challenge to try to learn two languages. So I would recommend La Rosiere for that because it gives you amazing access to two countries, two resorts and really varied terrain.
At the end of the week, as we boarded the train home, we'd prepared a nice French lunch. It was very leisurely - lots of bread, lots of snacks.
Working in the climate space, I really care about waste and I'm definitely reminded all the time about the importance of our own consumption-based emissions. So it's so nice being able to take all of that spare food from the fridge in the apartment and have a picnic on the train. There's so much flexibility, around things like wastage and your group's dietary requirements in this style of travel, and for once I wasn't thinking about what terrible-tasting food I'm going to get on the plane.
Comfort is also huge. Being able to get up, walk to the café, grab a coffee and just having your own space is definitely a selling point that I didn't even think of until I was on board.
Also, you can't beat the views. It's like a lovely Christmas postcard as you start going through the Alps. And I thought, it must be a really nice first way to be introduced to skiing.
To be able to get back to London in time to run to the chip shop because there's nothing in your fridge after a week's holiday was bliss.
All in all, we really loved it. And I think, in fact, it will become a bit of a tradition. As with everyone, we all work all of the time. It feels like for young people 95% of your life is work, and so with this trip, it felt like putting everything in someone else's hands from the minute we left the house.