The new Eurostar ski-train service
Wed 12 Jul 2023
By: Daniel Elkan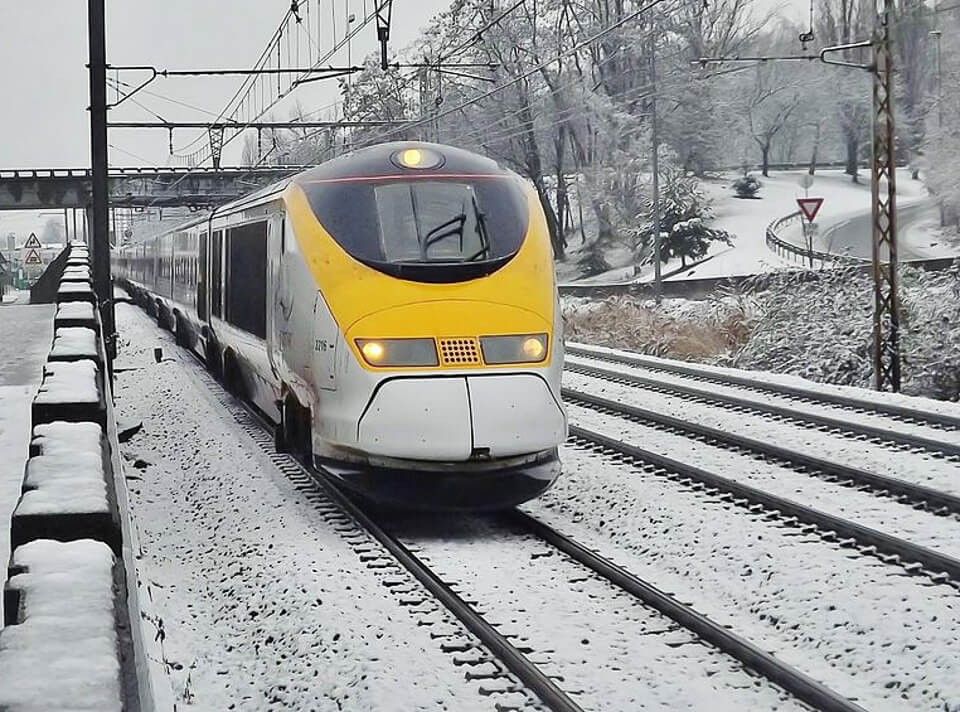 All change. Literally.

The direct Eurostar Ski Train, which for the past two seasons was chartered and marketed exclusively by French tour operator Travelski as the Travelski Express, is very different again.

Big difference number 1: it's no longer direct

Big difference number 2: it's no longer the exclusive preserve of Travelski

Big difference number 3: It's a daytime journey both ways: outbound on Saturdays, returning on Sundays.

So how will it work? Well, no one knows exactly yet, because negotiations are still taking place. And there's a lot to negotiate. Here's what we know so far.
This new service doesn't even have a name yet.
I asked Eurostar's press office about this, today. A spokesperson told me: "We will communicate an official name for the service along with all the other details soon." I'm calling it 'Eurostar ski-train service' as a working title. It's no longer called the 'Travelski Express' because it won't only be sold exclusively as part of a Travelski package.

The timetable
The actual timetable isn't yet known. But on the outbound, skiers will leave London St Pancras on a Saturday morning by Eurostar, changing train at Lille Europe. Here they will get off the Eurostar and then get on (either on the same platform, or an adjacent one) to a 'Eurostar continental train', according to a statement yesterday, from Eurostar.

"Eurostar continental train – what on earth is that?", I hear you ask. It's probably a Thalys train (a high-speed Belgian train, similar to a TGV). The trains are nice, comfy and fast. But due to the merger of the companies (Eurostar and Thalys) all the Thalys trains are going to be called Eurostar trains. Or 'Eurostar continental' trains. We shall see.

The return journey back to the UK is also a daytime journey. Interestingly, it will depart the Alps on a Sunday mornings, arriving back in London on Sunday afternoons. This means that skiers will stay in the Alps for eight nights instead of the normal seven, skiing an extra day on the final Saturday of the holiday.

For tour operators offering packages with this new Eurostar service, the Saturday-out-Sunday-back poses a problem: you can't fill accommodation every week with 8-night packages, because – obviously – there are only seven nights in a week. How this will be achieved, apparently, is still being discussed.
Have the practical repercussions really been fully thought through?

It's not just Travelski anymore
As mentioned, Travelski will no longer have a monopoly on selling the service. Other tour operators will be invited to offer this train service too. The result will be a wider choice of holiday providers and accommodation. If Eurostar allows skiers to buy seats independently on the service, then it means that you could choose any accommodation you like.
Eight nights might prove a headache for tour operators
Will the bigger-volume British ski tour operators want to get involved? Big boys like Crystal, Inghams and Skiworld, who for years had allocations on the direct Ski Train, might conclude that this is too much hassle to get involved with, at short notice, for one season. Certainly, these operators are very keen to be able to offer rail travel to their clients. But possibly not if the logistical hassle is too great. It's quite feasible that they don't go for it this year and ask Eurostar to come back with a more suitable proposition. This is pure speculation, as I have no idea how the negotiations are going behind the scenes.
What if you book independently?
Whether or not skiers will be able to book the service independently, has not been confirmed. As mentioned, the fact that the train goes out on Saturday and comes back on Sunday means that the extra night's accommodation has to be found somewhere.
An independently booked apartment or catered chalet is not going to let you stay eight nights, because it would mean that the following week they only have six nights available for the next week's guests. So skiers using the service and booking independent accommodation might have to stay the first or last (Saturday) night in a hotel by the train station, such as in Bourg St Maurice or Moutiers. Some skiers might be fine with doing that and be able to find accommodation. Others may see that as too much hassle and uncertainty, and choose alternative rail options or choose to fly or drive. It will be interesting to see how this pans out.

When will packages go on sale?
A statement from Travelski didn't give any date that packages will go on sale, so one can only speculate. My guess would be August or September, because these things inevitably take a while to get sorted. But what do I know? So much is still up in the air.

Why didn't Eurostar want to continue offer a direct train service to the Alps?
Eurostar, the company, now seems to live in a strange, parallel universe. The company axed the direct Disneyland Paris service last month, which is the travel equivalent of killing Santa Claus. To be fair to Eurostar, part of the problem was the stupid amount of red tape and queueing caused by Brexit, which Eurostar can do little about.

However, back when Brexit was only a twinkle in Nigel Farage's eye, Eurostar was already gaining a reputation for being hopeless at launching or maintaining services. It launched a direct London - Lyon service and then had to cancel it. It created a London - Swiss Alps service, but failed to consult with anyone before launch, and the Eurostar Swiss Service had to be cancelled within a year. The hopeless mismanagement of Ashford, where too few trains ever stopped to make it viable. This is a company that for years has closed its doors to the outside world, paid the price for doing so and still failed to learn. It shows little sign of learning now, becoming ever more opaque. Competition on the Channel-Tunnel line is desperately needed, and will no doubt come.

Additional stops this winter
Interesting, and usefully, the Eurostar ski-train service will stop at six stations, Eurostar has confirmed. Instead of just Moutiers, Aime La Plagne and Bourg St Maurice. The additional three stops are: Chambéry, Albertville and Landry.

· Chambéry is a useful intermediate station for changing onto another train to reach Modane (serving Val Cenis and Serre Chevalier) and Oulx (serving Sauze d'Oulx, Montgenevre and also Serre Chevalier)
· Albertville (serving Les Saisez, Praz sur Arly and Arêches Beaufort)
· Landry (serving Peisey-Vallandry, part of the Paradiski ski area, between Les Arcs and La Plagne)

Will the train stop in Ashford or Ebbsfleet?
Don't ask. Very unlikely, I imagine. Really, It's the hope that kills you...

Alternatives
The alternative to this new Eurostar service is to travel to the Alps by Eurostar and TGV, via Paris; or still via Lille, but with other Eurostar trains combined with TGVs. This is a great way to get there, with a wider choice of resorts overall, because the whole of the French Alps, and beyond, is your oyster. No route is perfect, but all have merits and can make the journey part of the holiday.

What the future holds
For years, I've suggested that there should be more options with a Eurostar to Lille Europe, combined with onward services. While I didn't wished developments of this route to be at the expense of the direct Ski Train, at least this new via Lille service may help encourage increased capacity this way.

However, whether it will be a success, due to the logistical accommodation challenges of making it an 8-night holiday, remains to be seen. Eurostar must have done this to save costs in some way ­– there could be no other reason. But it may end up costing them more than they save.

What ski resorts and tour operators are increasingly realising is that rail options are not a nice-to-have but an essential. Indeed, the Three Valleys, for example, have made it one of their key growth targets for the seasons ahead. Much lobbying is needed to ensure that rail companies come to the table and offer services that the ski industry can promote. Snowcarbon is involved in this effort, but it will take many stakeholders across the board to help move things forward.

Help planning your holiday
If you'd like suggestions for resorts, accommodation and routes, please don't hesitate to get in touch, and we'll be happy to help.